About 25 different countries recently have joined the list of the places where the event of iPad 3 international launch finally came. Millions of people are making long queues and waiting to become the owners of the best gadget in the world. Everything is happening pretty fast, as Apple continues its fastest international rollout.
We also have learned, that Apple is planning to make the second wave of iPad 3 international launch. Moreover, it took place this Friday.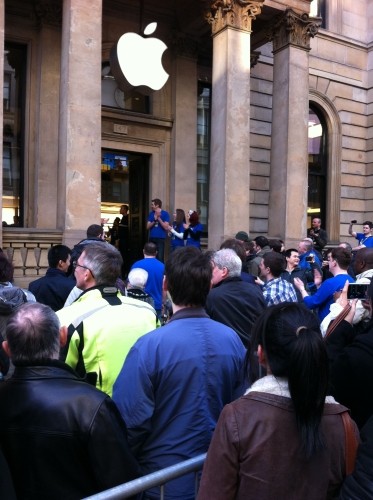 The iPad 3 international launch will occur in such countries: Austria, Belgium, Bulgaria, Czech Republic, Denmark, Finland, Greece, Hungary, Iceland, Ireland, Italy, Liechtenstein, Luxembourg, Macau, Mexico, The Netherlands, New Zealand, Norway, Poland, Portugal, Romania, Slovakia, Slovenia, Spain and Sweden. The new iPad is available for the residents of those countries at 8 a.m. local time.
Approximately one week ago, the iPad 3 international launch happened in 10 other countries. Customers began lining up outside retail outlets. There is even an information, that several people in Mexico reported long lines outside of stores in the area.
Federico Viticci of MacStories twitted about all the events, which where happening near the App Store. He reported, that about 60 people had already lined up outside of a store in Italy, starting from the 5.40 a.m. local time.
It's interesting, that the first week of iPad 3 sales, became the record for the device. You might have heard, that more than 3 million units were sold during the launch. People were just kind of crazy about the new iPad. And, actually, I can understand them. The gadget is practically perfect with its Retina display, A5X processor, camera etc.
Well, the iPad 3 international launch event was successful. Stay in touch, and you will receive only the hottest and the freshest news about everything, which regards Apple. Thank you for attention!
READ MORE +