Finally You Can Jailbreak iPad 2.4 With Updated Absinthe 2.0.4 [How to]
vI got some good news for all iPad 2.4 users. New Absinthe 2.0.4 was released to support jailbreak on this device.
Guys from Chronic Dev Team are working hard to the need of all iOS users. After Absinthe 2.0 release many iPhone, iPad, iPod Touch users were very happy and started to jailbreak their devices. But some users had problems with that.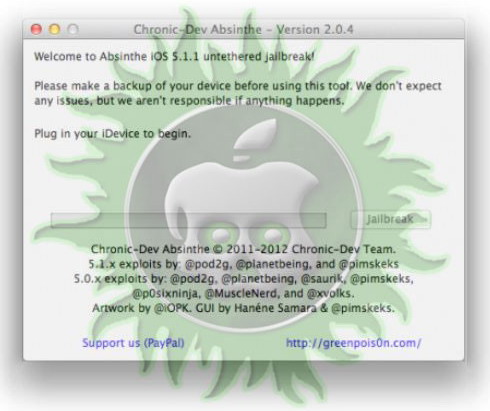 First we had some errors in Absinthe 2.0. Then Chronic Dev team updated Absinthe tool to 2.0.1 but it didn't solve the all problems. So I wrote you Absinthe troubleshooting where you can find the solutions for that errors.
But despite that two gadgets were still unjailbrakable. I'm talking about iPhone 4 GSM on build 9B208 and iPad 2,4. As for iPhone 4 GSM there was released Absinthe 2.0.2 specially for that model but what about iPad 2.4?
Well, as I said there is good news for iPad 2.4 users because new Absinthe 2.0.4 has been recently released to jailbreak iOS 5.1.1 on iPad 2.4 and you can download it here. That's why I'll show you how to use Absinthe 2.0.4.
How to Jailbreak iPad 2,4 Using Absinthe 2.0.4
Note: You can use Absinthe 2.0.4 to jailbreak all iOS devices quickly and easy.
Step 1. Update your iPad to iOS 5.1.1.
Step 2. Download Absinthe 2.0.4:
Step 3. Now launch Absinthe 2.0.4 and extract it clicking on absinthe. file.
Step 4. After extracting just launch Absinthe and you will see this window: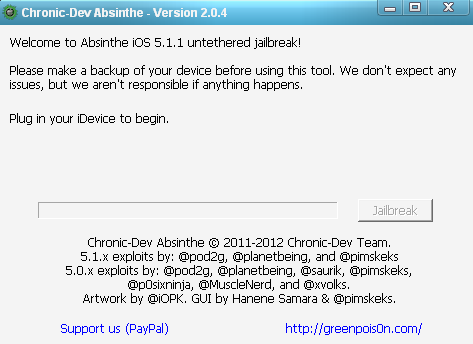 Step 5. Now connect your iPad 2.4 to the computer via USB and click Jailbreak.
Step 6. Wait till Absinthe 2.0.4 finishes jailbreak on your iPad 2.4.
Step 7. After the process you will see Cydia icon on your Home screen which means that the process completed successfully.
And that's it. Now you can enjoy your jailbroken iPad 2,4 with 2.0.4 version. Also you can go here to watch the video on how to jailbreak iPad 3 with Absinthe 2.0.2 and don't worry that it's 2.0.2 because the process is the same for all Absinthe version from 2.0 to 2.0.4 and you can use all of them to jailbreak iOS 5.1.1 on your gadget.