Apple Company Launched iOS 6.1.3 Beta 2 build 10B318
A few hours ago, Apple issued a second beta version of the update iOS 6.1.3 build 10B318 for iPhone, iPod touch and iPad, direct links of which are currently available to all officially registered developer company. But also here you can find IPSW download links without developer account.
The good thing is that you can use iOS 6.1.2 and then try iOS 6.1.3 (beta). The baseband is didn't changed from the previous beta [05.16.07]. But if you need to unlock 05.16.08 iOS 6.1.2 baseband you can do it with ease.
Download iOS 6.1.3 beta 2 and then install on the iPhone 5, iPhone 4S, iPhone 4 and 3GS, iPad mini, iPad second, third and fourth generation, as well as media players iPod touch.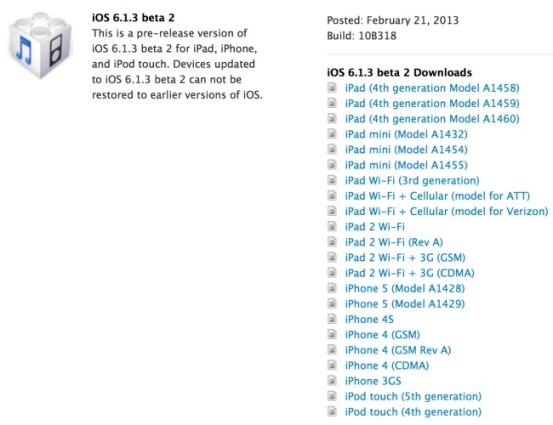 Release of the new beta firmware took a few days after Apple introduced iOS 6.1.2 update for the end users. The last fixed problems with the growth of traffic when working with enterprise services like Microsoft Exchange. In addition to errors in Exchange, iOS 6.1.2 brought bug that was eliminated. It fixed iOS 6.1 battery drain on iPhone.
According to sources, the second beta of iOS 6.1.3 beta 2 is the sequel build of iOS 6.1.1 beta 1, released on February 7. List of changes in this version are small and includes improving maps for Japan. We also learned that Apple has corrected the vulnerability, resulting in a position to gain unauthorized access to the mobile device to bypass the password in the iOS 6.1.3 beta 2.
You can download iOS 6.1.3 beta 2 for iPhone, iPod touch and iPad, as well as any other supported devices. If you are an authorized developer, you can download beta 2 through iOS Dev Center.
But if don't have developer account, download iOS 6.1.3 beta 2 using direct links below.
Download iOS 6.1.3 Beta 1 firmware
According iH8sn0w this versi0n is predicted to be "expired on April 22, 2013 @ 12:00AM (GMT)" . So we have time to explore it and hear news from evad3rs team about exploits for iOS 6.1.3 jailbreak.