Apple iPhone 5 Maps App Horrors and Errors
Too many iOS 6 and some of iPhone 5 users tell horror stories about the new Apple Maps application. Sometimes these stories become too scary and funny at the same time as no one would ever like to end up in the wrong direction when following the GPS navigation instructions or searching for the place of an important meeting or interest. But you can't stop laughing if you hear the story that happened to somebody else.
For example, if you choose to visit the Washington Monument you will be surprised as Apple has moved it to a different spot on iPhone 5 3D Maps app. The same thing has happened to a lot of places of interest, tourist attractions, etc. Some of the American train stations, cities, lakes have been erased, mislabelled or moved to the wrong decade.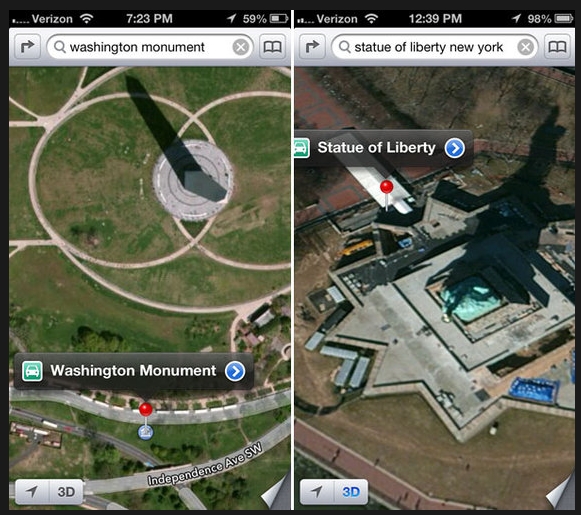 The iPhone 5 Maps app is not powered by Google. Apple uses other maps built from scratch and often created with errors.
iPhone 5 Maps 3D Models Errors in Flyover Mode
The Flyover feature is interesting; however its 3D models of big cities can often look very wrong. Sometimes bridges melt into the river. Sometimes roads go down into canyons. Sometimes train stations are located in the middle of the sea.
If you don't pay attention at such details you can say that overall Flyover feature is neat and the Maps app itself looks elegant and cute.
Other Cons and Errors
The app does not have Street View feature presented in Google Maps program so you cannot get a street-level picture of a particular address. It doesn't let you choose a bus or subway to travel where you want.
Besides, you cannot zoom out from the route and glance ahead of the destination you have selected. If you press Overview you will get two screens and this is not comfortable.
Report a Problem
There are rumors that Apple has decided to decline Google's application because it thinks that Google saves all the best features for its Android devices. The Cupertino-based company has chosen to work with TomTom, Waze, Yelp and other sources to build its maps and add traffic information. It added spoken turn-by-turn directions and a lot of other great things, but the data shown by iPhone 5 Maps app is not always accurate.
It's great that Maps display information online. This means that the application can be fixed on-the-go and improved constantly by Apple. All users can Report a Problem by clicking this button and tapping what is wrong with the location or place.
Do you believe Apple Maps app gets better with time? You can always get Google's Maps from your iOS browser or wait till Google creates its own application for the iPad and iPhone.