Apple Offers iOS 9.3 Beta 7 Release for iPhone and iPad
Are you waiting for iOS 9.3 update? Apple is testing this firmware with developers and public beta testers. The company has been quick to upgrade versions and it now offers iOS 9.3 beta 7 release. Ordinary users are not advised to upgrade.
The direct links that let download iOS 9.3 beta 7 are offered to registered developers and users who participate in Apple Public Beta Program only. Why? They know what they are testing and all betas are buggy. They could lead to errors and other issues that's why users are advised to wait for public iOS 9.3 release.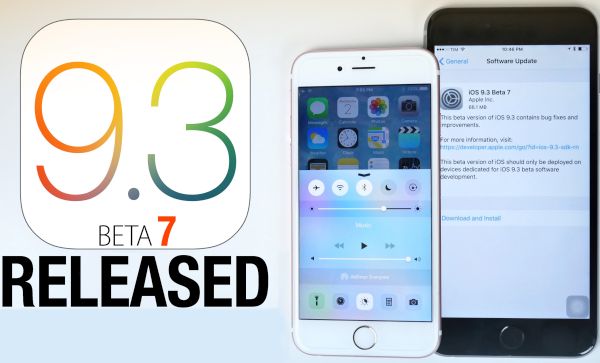 The previous beta appeared about a week ago. Apple started testing the future mobile operating system in early January. Experts think the company could present the final iOS 9.3 version in late March or early April.
It is curious that while this firmware should be a minor update it still offers some interesting new features.
or example, it will arrive with Night Shift mode. This option will make it easier to read at any time of the day because your screen will adjust to the time of the day and night using your geolocation and iPhone clock.
The Cupertino-based giant also allows protesting different apps with Touch ID but this will be only possible with iOS 9.3 update. Verizon subscribers should finally get WiFi Calling support like on iOS 9.2 update which is nice as other carriers, AT&T, Sprint and T-Mobile already offer this feature.
Devs and public beta testers can update to iOS 9.3 beta 7 through Dev Center, OTA or direct links.