Apple Reaches Over 50 Percent of All Mobile Device Activations over Christmas
Apple Christmas sale 2014 seems to be pretty cool, at least, one latest report published online states that over half of new smartphones and tablets that were activated in the end of December belonged to the iOS giant.
The huge iPhone activation Christmas percent [to be exact, it is 51.3] means that most customers got iPhone 6 or 6 Plus for holidays. These numbers are not only from across the U.S. They are from around the world.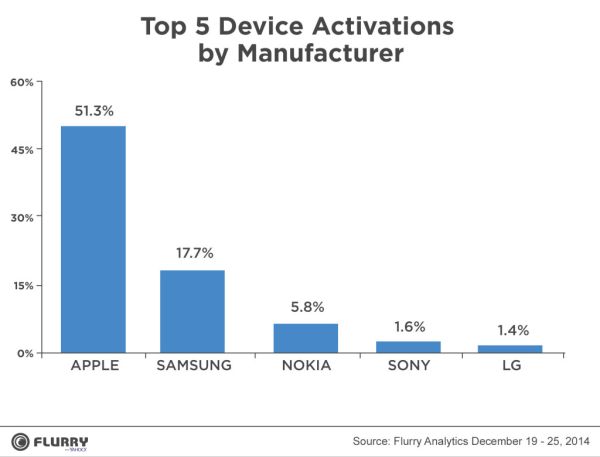 The report is based on data that was obtained from over 600,000 applications tracked by one company. It focuses on the dates between December 19 and 25, 2014. Apple got the first place with over 50 percent. Samsung comes second with around 18 percent of worldwide mobile device activations and Nokia places third with around 6 percent. There are three mobile giants that got nearly one percent in total, they are Huawei, HTC and Xiaomi [all these firms are popular in Asia].
Both iOS 8 iPhone 6 models are real blockbusters in 2014. A lot of consumers might find them under their Christmas tree on New Year. We'll see what analysts are to note in the beginning of 2015. For now, as it is mentioned in the survey, the number of iOS applications and other program installs at least doubled on Christmas Day if compared with early December.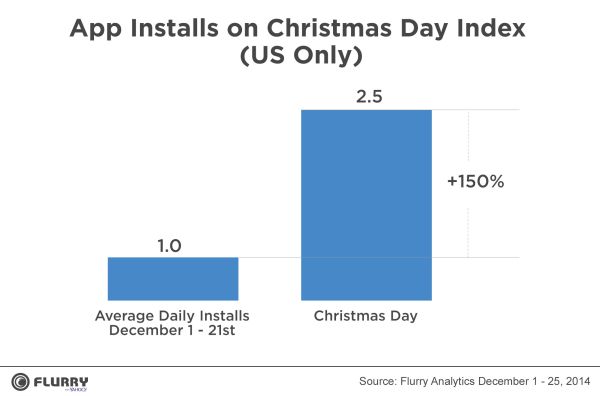 The report comes from Flurry.
What about you? Have you got a new smartphone for Christmas?