Apple Released iOS 8 Beta 3 [Direct Links]
Developers are offered to download iOS 8 beta 3 to test it on their iPhone, iPad and iPod touch. If you are registered in the Dev Center you can follow the direct links, if you are not a developer you can try to update using iTunes program on your computer.
iOS 8 beta 3 release comes with some new options and enhancements. For example, it offers new widgets, interactive notifications, and other things. The original presentation of this new firmware was during WWDC 2014 in June.
iOS 8 beta 3 direct links are good for the following devices and models. It supports all iPhones beginning with iPhone 4S and up to 5S, iPad + versions, iPad mini and iPad Air along with iPod touch 5G.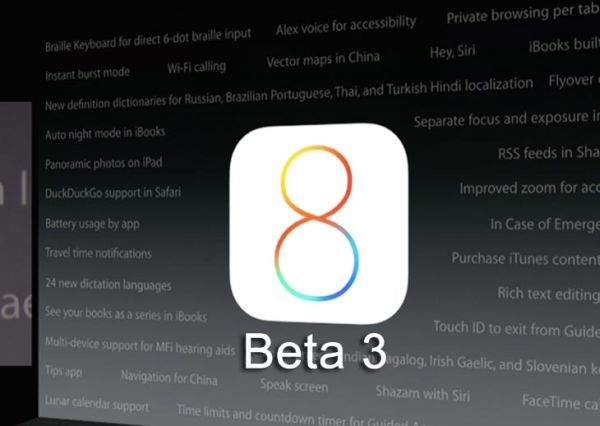 You can get iOS 8 beta 3 upgrade right now either via OTA update or through the direct links. If you have the 5-gen iPod touch go here:
iPhones
iPads
iPod Touch
iPod Touch 5th Generation (uploading…).
Install iOS 8 beta 3
Connect iPhone to iTunes using USB. Then restore your iPhone or iPad to the latest iOS 7.1.2 and setup it as a new iPhone in iTunes. Use links to download iOS 8 Beta 3 holding SHIFT make a left click on "Check for Updates" on iTunes. Select iOS 8 beta 3 ipsw which you downloaded.
Note: Don't reboot your device when iOS 8 beta 3 is installed.