Beautiful Weather Animated Wallpaper for iPhone [iOS 9 Jailbreak Tweak]
iOS 9 animated wallpaper list is long and you can enjoy a lot of default images offered by Apple. If you want something different you can either create your own photos and use them as iPhone or iPad wallpaper or get something offered by developers.
All jailbroken users can enjoy more options than iDevice owners who are running iOS 9 and are using only App Store programs. If you performed jailbreak on iOS 9.0.2 or earlier firmware with Pangu you are now able to download incredible weather animated wallpaper for iPhone offered by one interesting jailbreak tweak.
Cydia store has bunch of tools to choose. WeatherBoard 2 is one of the tweaks you can download and install. This program brings some astonishing weather themed wallpapers animations that will look very pretty on the iPhone.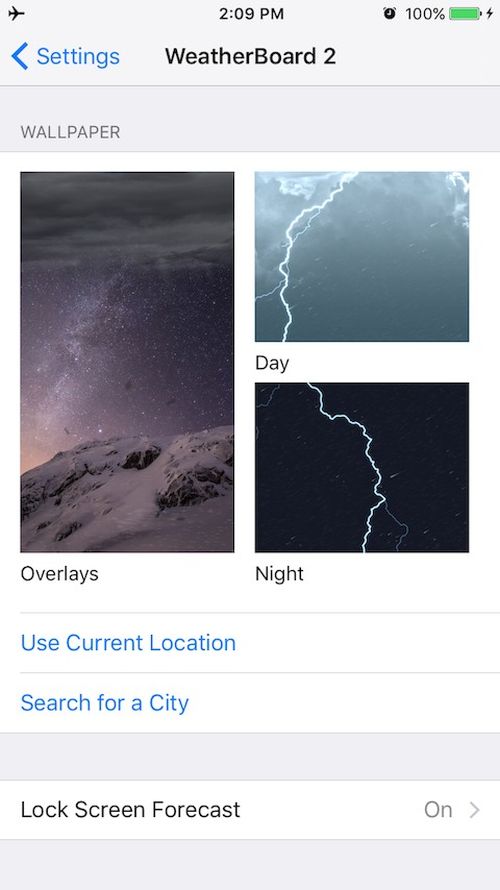 Wallpaper iPhone Weather Themed Animations
Step 1. It's fun that with WeatherBoard you can get animated wallpaper that show current weather information [here is how to enable Live Wallpapers on iPhone 6s]. This is really fun and useful. Just one big disadvantage – the tweaks costs $2.49 to download and use. You can get it through BigBoss repo on Cydia if your iPhone is jailbroken.
Step 2. The tweak arrives with its own pane. So go to Settings and choose the new pane.
Step 3. You can turn on or off your Lock screen weather forecast and select location.
Step 4. The tweak responds to the weather outside. When it is raining in your area you will get animated raining wallpaper in iOS 9 iPhone background. Devs include over 80 animations you'll find as your wallpapers.
Step 5. You are able to choose Celsius and Fahrenheit as your temperature unit.
Do you like weather themed images? Would you think that animated weather wallpapers would look cool on the iPhone or iPad?