How to Bypass iOS 7 Beta Activation Screen [Instruction]
It is simply impossible to bypass the activation screen. Can we fix this problem? Is there a way how to bypass iOS 7 activation lock display for free? There is one solution you can try. In case it doesn't work for you, I'll tell you what else you can do to solve this error and proceed with iOS 7 testing.
There are a lot of lucky iPhone users who updated their devices to iOS 7 beta 1 without problems. There were no issues for registered iOS developers with active UDID and participants of the WWDC 2013. But some ordinary folks like you and me came with one big issue.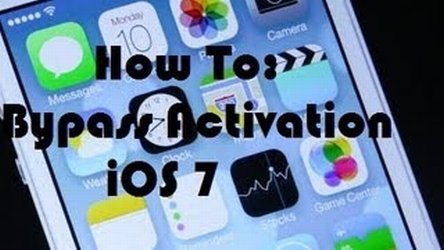 How to Fix iOS 7 beta Activation Problem
Step 1. Download the first beta of iOS 7 that was released by Apple last week.
Step 2. Install iOS 7 beta 1 on your iPhone / iPod touch. Note that not all models of these devices are supported by this firmware. Boot your smartphone or tablet.
Step 3. Once you see the setup options you should swipe to the right. You will find the new screen for language selection.
Step 4. Click on your Home button to choose Emergency Call option.
Step 5. Click three times on your Home button. VoiceOver option will be activated at this point.
Step 6. Press on the Call button [it will be highlighted].
Step 7. Now it is required to highlight all hidden iPhone application tabs. You can highlight them by carefully swiping to the left somewhere on the display [on an empty area].
Step 8. Wait till Voicemail gets into highlighting focus and then press twice in the highlight frame. Your gadget will try to call your voicemail and this call will fail because your handset hasn't been activated yet.
Step 9. It is time to disable VoiceOver option. To do so you should press three times on your Home button. Press on Call button once again and be fast to click Cancel.
Step 10. The previous 9 steps should have brought your new home screen. Enjoy! You have just bypassed iOS 7 beta 1 activation screen "We're unable to continue with your activation…".
Important Notice. Some of you might not be able to launch applications while running iOS 7 beta 1 on the iPhone. FaceTime and Phone app should work all right. If you still wish to get all the cool options and features of this firmware [if they don't' work for you after you complete the 10 Steps described above] you should find a registered UDID and afterwards upgrade to iOS 7.