Cheap iPhone Look Alikes [Leaked Images?]
The rumors state we will get a cheap version of iPhone this or next year. The latest discover show us what such a low-cost model could look like. We don't know if the images posted by Nowhereelse.fr are real or fake, but they assure that Apple could release candy-like colored smartphones which will cost less than an ordinary iOS handset.
According to reports [none were confirmed by the Cupertino-based company yet], we will see yellow, green, red and even blue gadgets made from cheap plastic for iPhone 6 running iOS 7 or above because there si no news about release date yet. The pics of less expensive devices could be shell copies made in China. We all know how many fake iDevices are produced overseas, but still take a look as the shell impresses.
Cheap iPhone Look Alikes
Some people are really impressed at how cheap the iPhones look. The rear shell is nothing we are so used to. I am sure that customers who purchase Apple for the change to get an original high-quality device will never go for the cheaply made budget smartphone.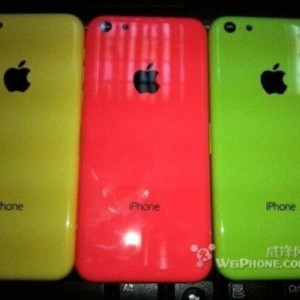 Also we can see that the color of the new devices won't change. Only some iPhone 5S changes we will see in the dock connector, laud speaker and Headphone jack.
Still some users might actually like such colorful handset. It is true that not everyone can afford the new iOS smartphone, especially the latest models. Cheaper devices would be affordable and judging by the pictures you can get an idea what such a plastic device could look like.
iPhone Cheap Model: To Buy or Not To Buy
Do you think it is necessary or not for Apple to release cheap iPhone 2013? It will be uncommon for the company to present low-cost models. According to different experts, it will have to launch something cheaper eventually to stay competitive in the smartphone market where different brands present a wide range of handsets, both expensive and cheap.
If suggestions turn out to be true the cheaper iDevice should appear on the store shelves in September or October, right after iPhone 5S release. What do you think about this affordable shape, size and texture of the handset rumored to cost around $65?