Five Key Cydia Tweaks Of The JailbreakCon 2012 | Roundup
JailbreakCon 2012 in San Francisco was very informative. I know that there are many who were disappointed because there was no iOS 6 jailbreak announced and we have to wait a very long time. However there is good news for iOS in general.
Developers of Cydia tweaks not doing this because of love but also to earn some income. And it is not a news. Just yesterday I posted an article about earnings. Cydia made 8 million bucks selling tweaks and apps. That's why there were some interesting new appearance of apps for jailbroken devices and I got five best tweaks for you.

Top Cydia Tweaks Presented On JailbreakCon 2012
ProTube 2
Development of Jonas Gessner called ProTube is well known to many fans of video service. The second version of an alternative client has got a lot of changes and improvements.

Key features of ProTube 2 Cydia Tweak
Ability to download videos from YouTube in any quality;
Ability to download the audio in MP3 or M4A from any movie;
Ability to choose the quality of play;
Blocking YouTube Ad;
Download manager that supports file operations;
Details about the loaded videos;
Supports AirPlay video broadcast;
Support for parallel downloads;
Ability to import songs and music, using a new tweak Bridge which I mentioned above.
ProTube 2 tweak can be purchased for $ 1.99. Customers who bought ProTube or ProTube  HD or after 1 May can upgrade it for 0.99 cents.
Scale
Another novelty was the musical tweak Scale, created by Joshua Tucker. The developer decided to share music – a very useful feature, but needs some work to complete it. Scale makes easy to send information about the current track in Twitter, by mail, messages, and so on.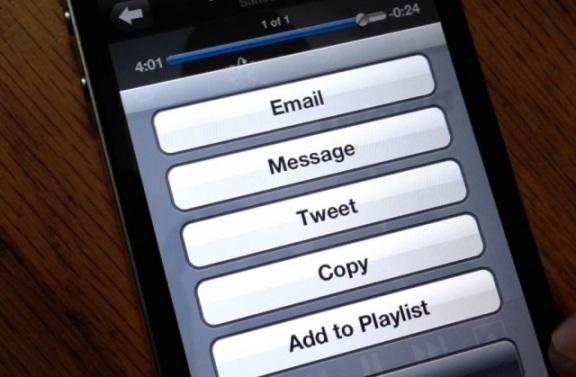 In addition to this, the new Cydia tweak will add the current track to a playlist and copy information about it to the clipboard.
Currently Scale tweak is only available for the iPhone; soon it will be for the tablet as well.
But what is the most feature that makes Scale to be different from other Cydia tweaks that were presented at the JailbreakCon, it is complete free of any charge.
Emblem
Joshua Tucker announced tweak for iPad called Emblem. The novelty will take a fresh look at the familiar system iOS notifications which make this app to be like Center Notification app in OS X Mountain Lion for Mac.
Just like in OS X 10.8 iPad owners will now be notified not through traditional banner at the top of the screen but in the form of a small banner that appears on the right side of the screen.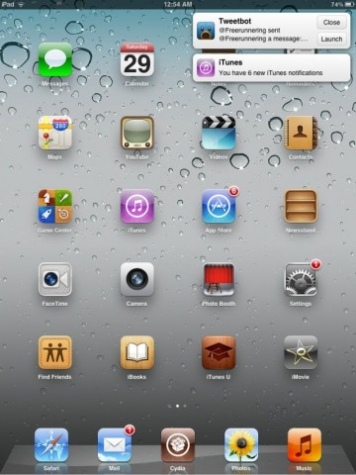 Multiple notifications received from the same application are grouped together in a kind of pile, and the user can see it browsing through them one by one.
Undoubtedly, Emblem is one of the best Cydia tweaks to improve the notification on iPad. Emblem was presented at JailbreakCon 2012 and can be downloaded for $ 1.99 in the Cydia repository Modmyi which everyone has who jailbroke his gadget.
Merge
Apple gradually improves iMessage service. One of the latest innovations was to combine a phone number with your e-mail address. This is convenient, but when dealing with different ID there are many different messages making difficult to view conversation.
Joshua Tucker decided to save users from this problem with the new Cydia tweak Merge. New product allows you to combine all the messages in a conversation and indicates which phone number or e-mail address is used as an identifier.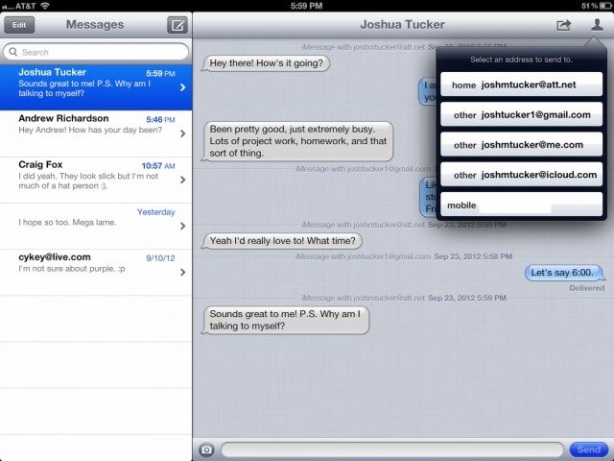 Merge tweak also allows to change the ID on the fly. In this case, in a chat window will appear notification about what email or phone number is being used.
You can significantly improve the performance of iMessage paying 1.5$.
Bridge
Jonas Gessner decided to save iTunes haters from having to sync music and video using iTunes. And present at the Jailbreak Conference 2012 a new tweak called Bridge ensure copying media files on your iPhone and iPad with the file manager, or even email. The file can be instantly added to your library music, or video applications. And that's not all.
With the help of the Bridge you can listen audio, watch video, edit the metadata and the type of the imported file.
Freedom from iTunes would cost you almost two bucks.
That's it. If you have jailbroken iPhone you can buy these JailbreakCon 2012 tweaks and enjoy. But if you use latest Apple OS you need to use Redsn0w 0.9.13dev4 and jailbreak iOS 6 tethered then install Cydia and enjoy it on the latest iOS firmware.