Developers Can Grab the New iOS 6.1 Beta | Download
Apple has presented its next version of iOS firmware. Now all developers are welcome to download iOS 6.1 beta release which brings some improvements to in-app Maps searches and other new options. Also if you don't have developer account you can download it too. The new iOS 6.1 [build 10B5095f] has been preceded by the public presentation of the updated iOS 6.0.1 features which is available for all iPhone, iPad and iPod touch users unlike its follower.
Should you download iOS 6.1 beta if you are an iOS developer? What new features does this firmware bring you? What benefits can it offer? Let's find everything out about the new Cupertino-based company's OS version.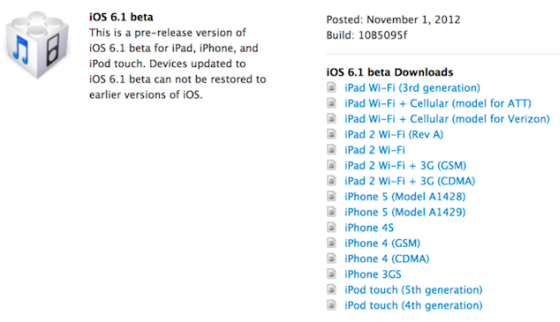 iOS 6.1 Features
There are not too many details about this firmware yet. We know that the beta iOS 6.1 makes it easier for developers to search maps. Users can just provide the part of addresses and name the place that Map Kit should find search results to match your data. According to Apple, if you are enter the word "coffee" Map Kit will give you information about all coffee bars in your location, etc.
Besides, you will learn how you can integrate Maps 3D app launched by Apple into your own applications. The iOS 6.1 beta [build 10B5095f] also brings changes to Mobile Safari browser and Passbook.
Some Important Notes
Apple has also released Xcode 4.6 [it supports interfaces' auto layout on OS X and iOS and the Retina display for MacBook Pro] along with the 6.1 firmware SDK beta. Just as always, you can download iOS 6.1 beta through the official Apple developer's center. But I have a good surprise for you. Here below are the direct links to download beta version of iOS 6.1.
Download iOS 6.1 beta for iPhone, iPad and iPod Touch
iOS 6.1 beta iPhone 3GS (Uploading )
iOS 6.1 beta iPad2 Wif Fi and CDMA (Download )
Keep in mind that this launch is pretty heavy. The smartphone's version along is over 1GB. And by the way, you should select your model number before downloading this update and add your UDID to the developer portal in case you own the iPad mini, iPhone 5 or iPad 4.
It seems that Apple has decided to really improve its software and make its customers happier. We would love to hear what changes you like the most and what other features you'd like to see in the next iOS 6.1 upgrade.
Also in few minutes I will finish the article on how to jailbreak iOS 6.1 beta so stay tuned with us for more updates.