How to Downgrade iOS 6.0.1 to 5.1.1 Using Redsn0w and SHSH Blobs
After writing detailed guide on how to downgrade iOS 6.0.1 to iOS 6 and 5.1.1 I received messages from some users that they had problems when they had been trying to downgrade iOS 6.0.1 to iOS 5.1.1, so I decided to show you another method to do that.
This method almost the same as previous, even simpler. Redsn0w is the tool you need and, as you might think, saved iOS 5.1.1 SHSH blobs because you won't perform successful downgrade without it. But let us all in order.
What You Need
You need to know that you can downgrade from iOS 6.0.1 to 5.1.1 only on iPhone 4, 3GS and iPod Touch. All other iOS devices are not supported.
As it was said you would have to use latest version of Redsn0w 0.9.15b3 (you can do it below) and saved iOS 5.1.1 blobs for successful downgrade. If you don't have those blobs it won't work. If you have blobs it doesn't matter if you saved it using TinyUmbrella or Cydia.
Also you need to know that this downgrading process requires iPhone restore, so you better perform a backup before we start and remember that only iOS 6.0.1 backups will not work on iOS 5.1.1
If everything is OK we can start.

How to Downgrade iOS 6.0.1 to iOS 5.1.1 Using Redsn0w
Step 1. Download iOS 5.1.1 firmware from here.
Step 2. Download Redsn0w 0.9.15b3 using this link.
Step 3. When you download redsn0w, unzip file and launch it.
Note: PC (Windows) users should run Redsn0w as Administrator and Mac OS X (Mountain Lion) users should click Cntrl+Open to launch it.
Step 4. When the "red" tool is up and running go to Extra – Even More.
Step 5. Now click Restore button and then IPSW button.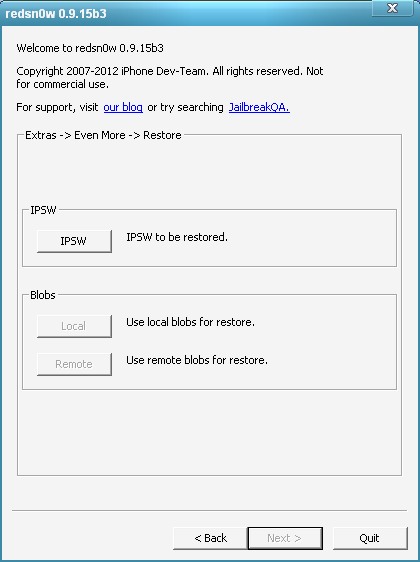 Step 6. You will see the window where you need to select iOS 5.1.1 firmware file you've downloaded in Step 1 and click Open.
Step 7. After that you will see the notice where you are prompt to prevent baseband update, so click Yes.
Step 8. In this step you will need to put your device into Pwned DFU mode to downgrade iOS 6.0.1. For this you need to turn your device off and connect it to the computer.
Step 9. When Redsn0w detects your device click Next and follow on-screen instructions. If you have problems with that go here and find out how to enter DFU properly.
Step 10. If the process will be done correctly Redsn0w will detect 5.1.1 blobs on Cydia. If nothing has happened you can try it again by using Remote button. Otherwise you saved SHSH blobs locally (on the computer) click Local button and select saved blobs.
Step 11. The iOS 6.0.1 downgrading process will end automatically and you will see the message where it will inform you that you have just downgraded your device to iOS 5.1.1 successfully.
Jialbreak and Unlock
The last thing you can do is to untethered jailbreak iOS 5.1.1 and enjoy jailbreak tweaks. As for unlock the situation is not so easy as with jailbreak because you will only downgrade from iOS 6.0.1 to 5.1.1 but baseband is still 6.0.1's, so you better use this link to fond out how to unlock iOS 6.0.1 baseband and enjoy not only untethered jailbreak but any SIM card of any carrier around the world.