How to Downgrade iOS 7 to iOS 6.1.3 [Instruction for iPhone 4 Users]
iPhone 4 users who have installed the latest iOS 7 released by Apple this fall can easily downgrade to iOS 6.1.3 via iFaith. There are special requirements for people who wish to follow this guide and downgrade iOS 7 to iOS 6. All information is listed inside this post.
Firstly, the instruction works for iPhone 4 model only. Secondly, you need to have your iOS 6.1.2 SHSH blobs to use it. Thirdly, with these blobs you can downgrade even to earlier versions of the "fruit" mobile operating system via iFaith program.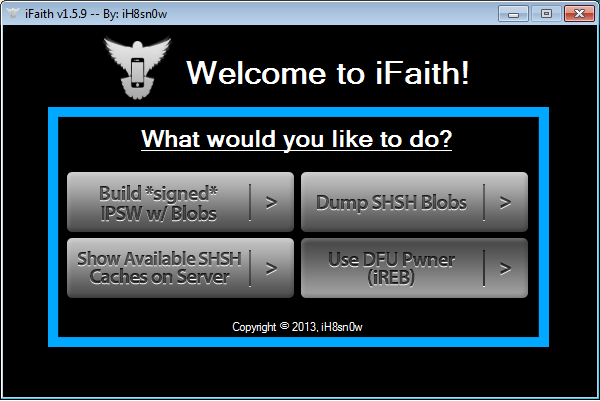 Notes: iH8sn0w developed iFaith tool for Windows PC users. You can't downgrade if you are having iPhone 5S / 5c / 5 / 4S or iPads / iPod touch. Once you downgrade, you won't get a chance to restore using your iOS 7 backup. Restoration will work with v.6.x.x compatible backup only. You are still advised to backup iOS 7 iPhone via iCloud or iTunes.
Guide on How to Perform iOS 7 to iOS 6.1.3 Downgrading
Note: You can apply these steps for iOS 6.1.2 as well as to any other lower version of iOS 6 if you have SHSH blobs.
Step 1. Get iFaith program [use this link]. You will get a zipped file. Unzip it.
Step 2. You need to get iOS 6.1.3 version for the iPhone 4 and iTunes 11.0.5 / 11.0 or previous versions. The program will not work with later releases starting with v.11. For example, if you have 32-bit Windows you can download iTunes 11.0 version or iTunes 11.0 for Windows (64-bit).
Step 3. Plug in the handset to PC.
Step 4. Launch iFaith program by pressing twice on its icon and choosing "Ok" option.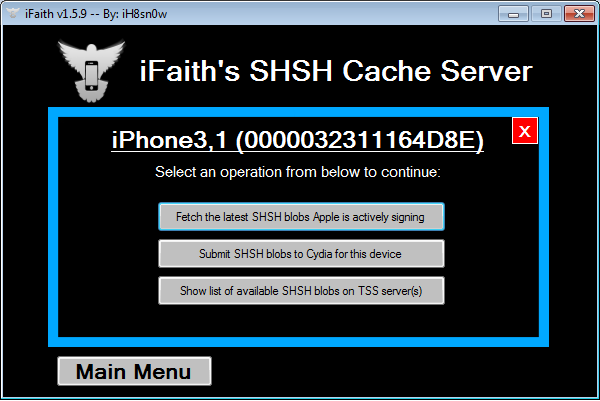 Step 5. Select the function called "Show Available SHSH Caches on Server" and say "Yes" when you are asked whether or not to use the handset you have just plugged in. From the menu, choose the available SHSH blobs on TSS servers. The program will get them from Cydia and save locally on your computer.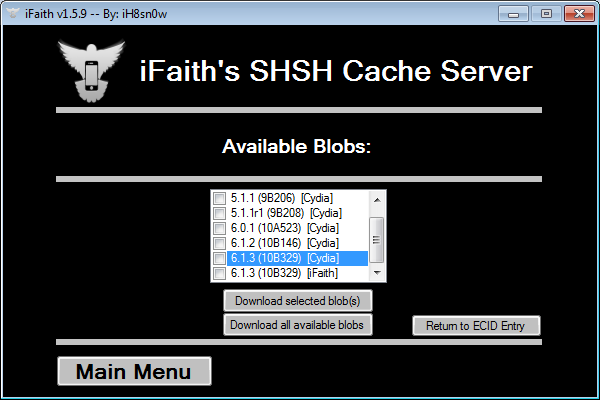 Step 6. Find iOS 6.1.3 blob in iFaith or Cydia and press to "Download selected blob(s)," save it locally on Desktop and press "Ok" option.
Step 7. Once blobs are downloaded you will get a message about successful verification of your 6.1.3 apt tickets. Choose "Ok" to continue. This time press "No" when you are asked whether or not to use your newly plugged in gadget. Exit iFaith and proceed with this guide.
Step 8. Open iFaith once again and tap "Ok."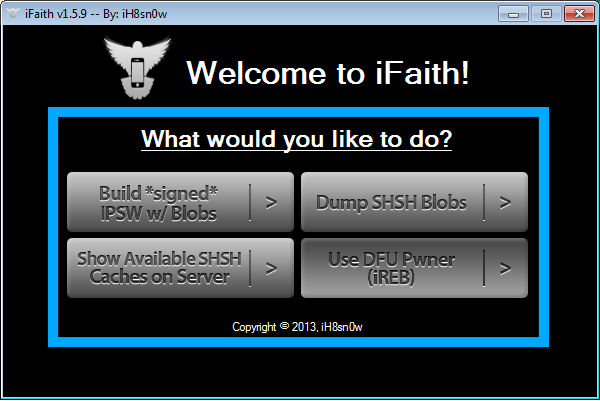 Step 9. Choose "Build signed IPSW" menu and browse for blobs by pointing to your saved 6.1.3 blobs .shsh file.
Step 10. When your apticket appears valid you should proceed by clicking on "Ok" option.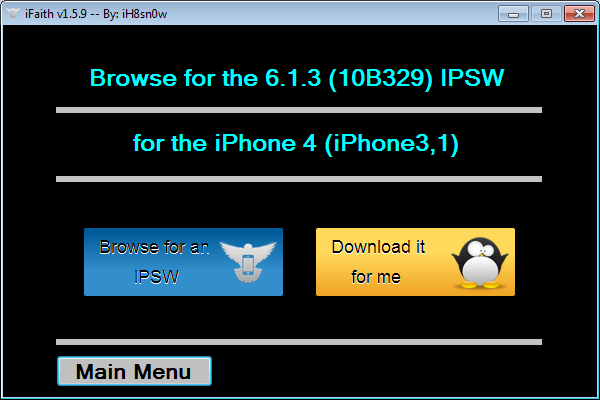 Step 11. Point the program to the iOS 6.1.3 system file or ask it to download it for you. iFaith will verify the IPSW file and allow you building IPSW if everything is correct.
Step 12. Wait till the program completes the process. It will tell you the custom "signed" IPSW has been created. Remember the name of the file and press "Ok."
Step 13. It's time to turn iPhone off and enter DFU mode by pressing on the "Start" key and doing what the on-screen guide says. Firstly, click on Power and Home button for about five seconds and then again for about ten seconds. Secondly, take your finger off the Power button but keep pressing on the Home one for another thirty seconds.
Step 14. Once you are in the DFU state, iREB will start its work. Press "Ok" twice to exit iFaith program.
Step 15. Open iTunes version 11.0 or 11.0.5 or the one you got. The program will mention "recovery mode" meaning you have to press "Ok" and proceed.
Step 16. Press SHIFT while clicking on "Restore iPhone" option in the Summary menu. Browse and choose your .ipsw file. Let iTunes restore the handset of your using that custom operating system file. Let the process complete. Don't touch anything.
Step 17. Once everything is done you will see the instructions on how to set the iPhone up. Follow them and restore using the backup. You are now running iOS 6.1.3 instead of iOS 7 on your iPhone 4.
Now with the old iOS we can hope for iOS 6.1.3 jailbreak release from iH8sn0w and other hackers which will come soon.