Download MobileSubstrate iOS 7 with ARM64 Support
MobileSubstrate iPhone 5S Cydia tweak is now available for download. This important component has got support for ARM64 Apple devices. A lot of users have been waiting for a while to see it since most cracked apps depend on it. Now all the developers can easily update their Cydia applications for gadgets with 64-bit processor such as the iPhone 5S, iPad Air etc.
According to Saurik, MobileSubstrate iOS 7 upgrade arrives under the version name 0.9.5.000 and it supports both ARM64 and the latest mobile firmware for iPhone, iPad and iPod touch. By the way, the component has been also renamed. The well-known hacker believes it's much better for the MobileSubstrate to be called Cydia Substrate since this is what this tool has been meant for originally.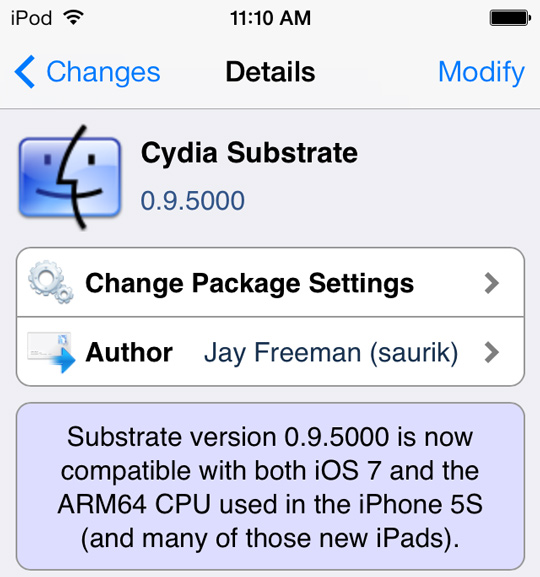 It is simple to download MobileSubstrate iOS 7 as all you have to do is to refresh sources on the jailbroken smartphone or tablet device. This way you will be automatically updated to use Cydia Substrate 0.9.5.000 and get smoother performance on the newer fruit gadgets.
The release of this tool is very important for the jailbreaking community. iOS 7 iPhone, iPad and iPod touch owners had no apps to install after performing untethered iOS 7 jailbreak released by the Evad3rs team before Christmas. Everything was waiting for the substrate update to get tweak compatibility on gadgets with the newest 64-bit chip.
Some devs have already polished their Cydia tweaks for ARM64 smartphones / tablets which is pretty cool. Those who didn't have time to recompile applications will surely do this soon. Of course, tweaks that are not very popular might not get the update this winter, but popular ones will surely be upgraded in a short while.
Note. Users whose iDevice has BootStrap on it are advised to delete it before they refresh Cydia sources on a jailbroken handset or computer.