Use Direct Links To Download Redsn0w 0.9.14b1 for Windows and Mac
I got some great news for iPhone 3G, 3GS users who stuck on iPad baseband 06.15.00. Here you download RedSn0w 0.9.14b1 and downgrade 06.15.00 to 05.13.04. Which means that you can use Ultrasn0w to unlock your phone.
iPad baseband was a good alternate for those who couldn't unlock their iPhone 3G 0r 3GS. That's why many users updated their baseband to 06.15.00 specially to unlock it. But there were some inconvenience. The GPS was broken and there were no hope for downgrade.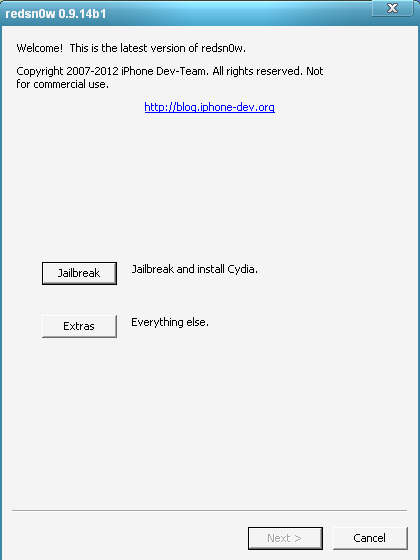 iPhone Dev team has released new version of jailbreaking tool and you can download Redsn0w 0.9.14b1 here specially to downgrade 06.15.00 and unlock your 3G, 3GS using Ultrasn0w. Also this will give you the possibility to fix GPS and have the ability to use stock IPSW.
And it is really good news. Also if you your iPhone baseband is 05.16.05 (or other unlockable baseband) you can just update your iPhone 3G or iPhone 3GS to 06.15.00 and then downgrade it to 05.13.04 using Redsn0w 0.9.14b1. However you must remember that iPad baseband is not compatible with iPhone 3GS which was produced week 34 of 2011 or later.
As to iPhone Dev Team the possibility to test new Redsn0w was given by unknown person  dilbert4life who gave his 3GS on 06.15.00. So MuscleNerd and other hackers from iPhone Dev Team could downgrade this iPad baseband. So let's download Redsn0w 0.9.14b1 from direct links here and use it for downgrade.
Download Redsn0w
So now you can use this tool to downgrade your iPad baseband even if your iPhone is jailbroken. Also there can be a possibility that you will have No Signal after UltraSn0w unlock so to fix No Signal on iPhone 3GS, 3G you need to reinstall Mobile Substrate and Ultrasn0w on your iPhone.
Also your baseband may still be 06.15.00 after downgrade. In that case I give you to methods to fix iPad baseband downgrade if it's not working.
Here you can only download Redsn0w 0.9.14b1 and then use my detailed tutorial guide on how to downgrade 06.15.00 baseband. Stay tuned with us for more updates and use comment section below in case you have some questions.