Download UnthreadedJB to Untethered Jailbreak iOS 5.1 with Unthreadera1n
The release of a new unthreadera1n exploit to untethered jailbreak iOS 5.1 was earlier today. A program written for the operating system Linux and allows untethered jailbreak CDMA iPhone 4.
Exploit called UnthreadedJB, after the group of developers, which was engaged in its development. The good news is that the developers want to port their UnthreadedJB jailbreak for iOS 6.1.3 / 4, which is much more interesting.
Apple closed the vulnerability in the latest versions of iOS, that allowed you to untethered jailbreak it using Evasi0n. This exploit is compatible with iOS 6.0 – iOS 6.1.2 firmwares.

Who Are UnthreadedJB Team
Programmers were developing UnthreadedJB for several months and now have opened access to his exploits for ordinary users.
As to where they from. Well, if you will read their tweets you will see poor English but it means nothing. It can be just their style and nothing more.
However one tweet made me think that they can be Ukrainians but I'm not sure. Better see for yourself: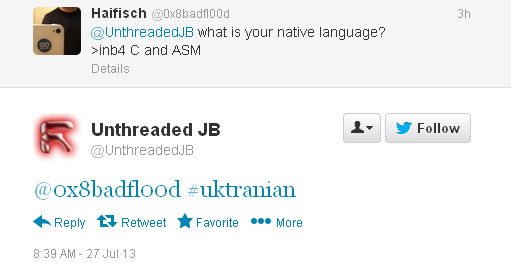 First, who took advantage of the program, report that they have successfully made the untethered jailbreak on iPhone 4. The advantage of the latter is that the smartphone does not need to connect to a computer on every reboot.
Obvious disadvantages of development – you need a Linux computer and iPhone 4 CDMA model, running on US networks Verizon and Sprint. Moreover, the device must be running iOS 5.1 firmware, which was released in early 2012. Therefore, there is no doubt that this exploit will be a lot of downloads.
This is the first jailbreak for iOS 5.1, as far as the software tool Absinthe 2.0 is compatible only with iOS 5.1.1 or higher.
Download Unthreadera1n for Untethered Jailbreak iOS 5.1 on iPhone 4
Here is a video and the link which you can use for unthreadera1n downloading and see the video on how to perform iOS 5.1 jailbreaking.
Enjoy the video:
Don't forget to leave thought regarding this new unthreadera1n jailbreak tool in the comment section. Do yo think UnthreadedJB will release jailbreak for iOS 6.1.3 / 4?