Download Updated Evasi0n7 1.0.1 Without Chinese TaiG
Evad3rs hacker's team updated Evasi0n 7, jailbreak utility for iOS 7, to version 1.0.1, removing from the Chinese app store Taig that is containing illegal installation files.
Evad3rs unexpectedly released Evasi0n 7 on Sunday, December 22. Jailbreak untethered does not require putting the device into DFU mode. Installation requires a few clicks only. However, there were some shortcomings exploit obviously associated with haste.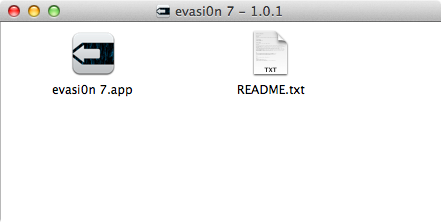 Evasi0n7 1.0.1 Download Links
Thus, for example, has been identified an annoying bug during the installation of Evasi0n 7 on iPad 2 tablets. Version 1.0.1 of Evasi0n 7 doesn't fixed this bug. However, most criticism was expressed on Chinese copy of the App Store called Taig, which installs on the device after jailbreak and Chinese is the primary language.
As we reported, Evad3rs responded to user complaints and remove the installation files from the updated package Taig releasing Evasi0n 7 1.0.1 The official reason was the presence of pirated applications in the loader. However, most likely, theTaig resource return to exploit as soon as the owners get rid of pirated content .