Enjoy iReb on Mac After Downloading it Here with iOS 6.1.3 Support
We all have been waiting for this day and today it has come. Now you can download iReb for Mac OS X 10.4+ and fix iTunes errors while restoring or downgrading your iOS 6.1.3 iPhone.
This tool is very useful and easy to use. The latest version for Windows is iReb r7 which you can apply if you are PC user. The main reason of using this tool is to fix iTunes errors you may encounter during the process of restore / update. This tool allows you to enter PWNED DFU mode to complete the process without issues.
You may get such iTunes errors as:
1600
1601
1602
1603
1604
1015
and iReb is the best tool to fix them and now you can perform it on Mac! See what iH8sn0w tweeted about this update.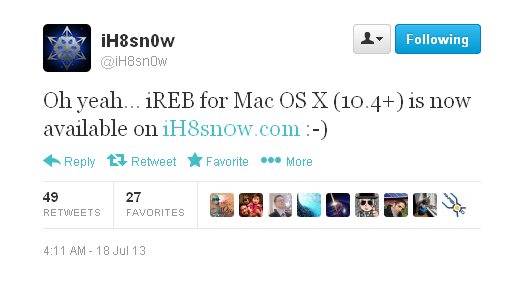 Such errors may occur if you are going to downgrade iOS 6.1.3 iPhone. Also iTunes can give such error while preserving the old baseband or restoring to a custom firmware. In other words, if you try to update / restore your device to custom firmware in iTunes using Shift / Option button, only with iReb you can do it without problems. And from now you can do it on Mac which is more exciting.
I know that there is no Sn0wbreeze support for Mac and you can't do all that hacking things on OS X machine. But there is a hope that soon iH8sn0w will release iFaith for Mac which will allow you to save SHSH blobs, create custom firmware and other great stuff to perform.
Download iReb For OS X with iOS 6.1.3 Support
It is great that hackers don't forget about us and working on their tools to update it for the public. Another good news came from p0sixninja and his newly launched openjailbreak source which gives you the possibility to gather all essential info, repos, codes, scripts, exploits regarding jailbreaking to help everyone to release his own jailbreaking tool.