Fit Notification Banners in iPhone Status Bar
There are different notification banners iPhone tweaks you can download to improve your Apple experience. This works if you jailbreak iOS 9 smartphone with Pangu jailbreak tool. The tool supports only iOS 9 firmwares up to version iOS 9.1 (included) so user who have installed iOS 9.2 or iOS 9.3 cannot use it and get advantage of different jailbreak tweaks.
The fun notification banners iOS 9 jailbreak tweak is called ThinBar. This is a free package you can download from Cydia store and install on your iPhone. What does this tweak do? It can slim down your notifications and squeeze them into your Status Bar.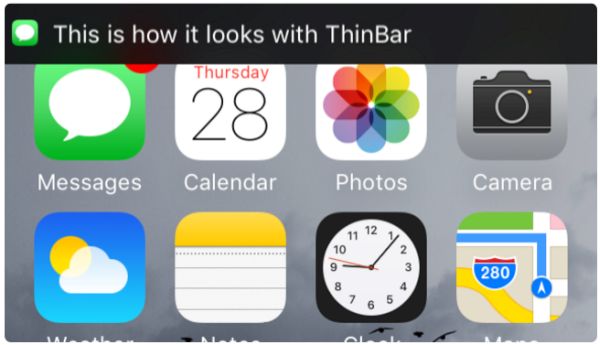 Regularly you get notification banners right on your screen while you are playing a game, working within an app or doing something else. If you are annoyed by this you can install notification banners iPhone tweak and change the size of your incoming banners. This is done automatically and you can enjoy the changes pretty much.
The shrinked banners can be placed in your Status bar. They require smaller portion of your display since the text will be scrolled in your status bar. You won't be annoyed by your iOS 9 notifications any more.
You will find the preferences pane in iPhone Settings menu after installation of the tweak. Turn it on before you start seeing notifications in Status bar. Remember to adjust the banner's height. This is possible through Settings. Devs offer 20px as minimum height and 64px as maximum option.
Once you set up the adjustments you will see your notifications displayed at the top of the screen. This is simple and free of charge.