Fix Fieldtest iOS Diagnostics Adsheet [+Video]
Want to fix Fieldtest, iOS Diagnostics, Adsheet, Setup white icons stuck on your Springboard – this post will teach you how to do that. Lots of people mention that after device jailbreaking those four icons can appear after some app were installed through Cydia or Installous. This problem wasn't fixed in iOS 5.1.1 as well. So what should you do when Fieldtest, iOS Diagnostics, Adsheet and Setup icons appearing where they shouldn't?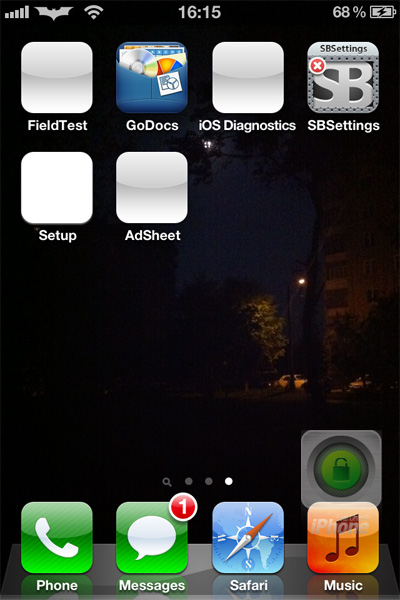 Those four app are the part of iOS and usually they are hidden but in this case they are visible for some reason. This bug can appear both on iPhone and iPod Touch. The core of the problem is the libhide library. It is responisble for hiding icons. Those can be system icons as well as ones from Cydia like SBSettings or Activator icons.
How To Fix Fieldtest iOS Diagnostics Adsheet and Setup Icons Appearing On SpringBoard:
Step One: Close all of your current running apps.
Step Two: Run Cydia, go to Manage -> Settings -> Select Developer, tap Done
Step Three: Go to Search and type 'libhide', install it.
If you don't want to do it with Cydia, use link to get libhide.deb and use our tutorial on how to install .deb files Windows, Mac.
Step Four: Run SBSettings, tap More->Mobile Substrate Addons-> check if libhide is switched on.
Step Five: After you've done all of the following above  you must do the hard reset:
Push Power button
Push Home button while holding Power button
Wait for about 5 seconds
Step Six: After the phone is rebooted go back to SBSettings and switch libhide off. That doesn't change anything much but you might find it more cozy.
Step Seven: Go to Cydia or Installous and try downloading any app. If none of Fieldtest, iOS Diagnostics, Adsheet, Setup appears – you have fixed your problem.
Step Eight: If it didn't work – try toggling libhide and rebooting/respringing device. If even this didn't work – try removing it from Cydia.
Video Instruction On How To Fix Fieldtest iOS Diagnostics Adsheet and Setup Icons Bug: