Fix iTunes Error 1015 [How To]
In this tutorial I'll explain you how to fix error 1015 you could possibly face after iPhone firmware upgrade. After you've updated your device to the newer firmware you could be unable to synchronize it with iTunes because it will say "An iPhone could not be restored/updated. Unknown error occured (1015)". The error usually takes place when you don't put your device in DFU mode properly before downgrading. What should you do in that case?

How to fix iTunes error 1015:
Note: First you need to download:
Step One: Close iTunes and run iREB.
Step Two: Choose your iPhone version.
Step Three: Enter the DFU mode. Use onscreen instructions or this guide to do that.
Step Four: iREB will now exploit  your device with limera1n, just wait and then close the program.
Step Five: You'll see iTunes popup saying that your iPhone is in recovery mode.
Step Six: Hit Shift+Restore button (Command+Restore inf you're on Mac) in iTunes and select the firmware you want to restore to. It can be either custom or stock firmware.
Step Seven: Wait for iPhone to restore. After that you' ll see iTunes message saying that the device was restored.
Step Eight: Run redsn0w, chose the firmware you've restored to a few minutes ago. Use this 15-step tutorial to jailbreak and hacktivate your iPhone. Don't be afraid that it's for iOS 5.1 firmware, it works on all the other firmwares as well.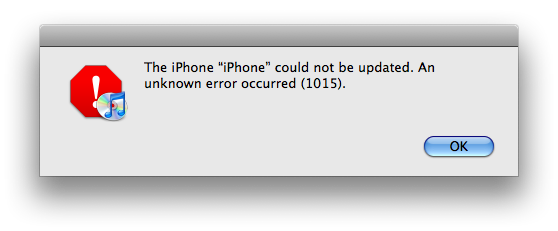 That's it, your device should be restored and re-activated with Cydia installed by now. Don't forget to save your SHSH before any actions connected with downgrading, jailbreaking, installing custom firmware or else. It's always better to be safe.
If you found this guide helpful – please feel free to share it with the share buttons below. You are also welcome to follow our blog on Twitter, join Facebook, Google+, subscribe to RSS and to our channel on Youtube.
Leave comments below to let us know if this tutorial worked for you or if you have any questions concerning it.