How to Fix Wi-Fi Issues After iOS 6.1.2 Update Error
Some users who have updated to iOS 6.1.2 complain about Wi-Fi not working on iPhone 5 problem. The new firmware was launched by Apple in February. It was meant to solve the problems with Exchange that drained life out of device's battery. Still a new bug has been reported, and we can tell you how you can get rid of it.
There is no need to worry about WiFi errors after iOS 6.1.2 update. Here is the fix that should help you if you see wireless network sign graying out on your gadget. It's mostly experienced by iPhone 4S owners who can try one of the methods described below and hopefully avoid taking their smartphone to Customer Care center.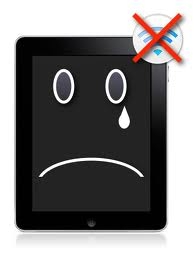 Fix iOS 6.1.2 Wi-Fi Not Working
Fix 1
The problems with WiFi began after iOS 6 release. Also after iOS 6.0.1 update it still continue and you can use tips to fix it. But here is the guide to help you.
In case you have an iPhone or iPad and it doesn't let you use Wi-Fi after firmware upgrade, you can firstly reset network settings. This is the first thing to do. However, since it deleted network details from your device, including login data and passwords, you should save it beforehand.
Once important data is saved, you should go to Home screen and select Settings.
Now it's time to choose General and scroll down till you find Reset option. Click on and then tap on Reset Network Settings option.
You are done successfully erasing network settings on the tablet or handset of yours. Hopefully this method has fixed Wi-Fi not working on iOS 6.1.2 iPad / iPhone problem. If not, try the second method.
Fix 2
Try to restore the iPhone to iOS 6.1.2 via iTunes program. This method is good for users who used OTA during firmware update the first time and, as a result, their Wi-Fi stopped working after iOS 6.1.2 OTA update.
Did it help you? We will be glad if you share your experience with our readers on how you fixed the problem. Also you can try NameBech program but I didn't test it on iOS 6.1.2.