Don't Update iPhone to iOS 6 Because You Lose Gevey SIM Card Unlock
Users who own an iPhone that was unlocked via a GEVEY SIM card must not hurry to update to the newest version of iOS that will be released this Wednesday. The latest iOS 6 is not for your device, at least not till it is deemed safe.
Learn more why you should not use Gevey to unlock iOS 6 in case the device you have was unlocked with a GEVEY SIM. What can happen if you still decide to upgrade? Who is warning you?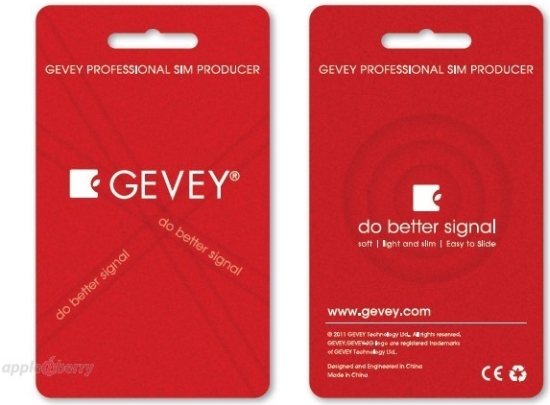 According to Apple N Berry, users with a GEVEY SIM Card unlocked iPhone are better no to take advantage of the iOS 6 features. While other smartphone customers might like to get their hands on the firmware version 6 on September 19th, users with an unlocked gadget should scratch this plan and wait a bit.
Surely, you can always take a risk and try to update to the newest firmware. But do you know what can be waiting for you after the upgrade? As Apple N Berry states, they have no idea yet whether it is safe or not to use GEVEY SIM cards with the iOS 6. Right now the company is testing this operating system with its cards, but it has to make sure that the official launch of this iOS will not harm iPhone owners. Also Apple N Berry say nothing about IMEI Gevey Sim unlock for AT&T iPhone as well.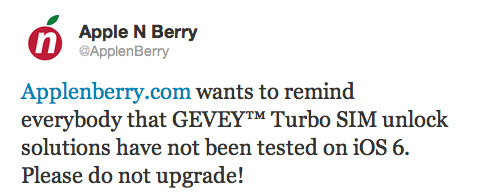 In case you don't pay attention to this warming and still upgrade an unlocked iPhone with GEVEY SIM card to the iOS 6, it might happen so that your card clashes and leaves you with no way to connect to the unofficial network. Would you like it to happen? You probably wouldn't.
The best for you is to wait a couple of days until Apple N Berry confirms that such an operation is safe to perform. Just stay tuned to our iOS 6 and iPhone news and we will tell you when you can upgrade your iPhone to the newest Apple firmware and unlock iOS 6 on any iPhone. After iOS 6 official release you will get more and more features and updates.