Gevey Ultra S To Unlock iPhone 4S iOS 5.1.1
People who use Gevey Ultra S unlock for iPhone 4S can freely upgrade to iOS 5.1.1 – the unlock still works! The recently released iOS update doesn't seem to add problems neither for jailbreakers nor for unlockers. You still can jailreak iOS 5.1.1 with latest version of redsn0w and run that iOS semi-tethered. Now the official Applenberry Twitter has confirmed that Gevey Ultra S unlock for GSM iPhone 4S that worked on iOS 5.0.1/5.1 successfully handles his duties on iOS 5.1.1.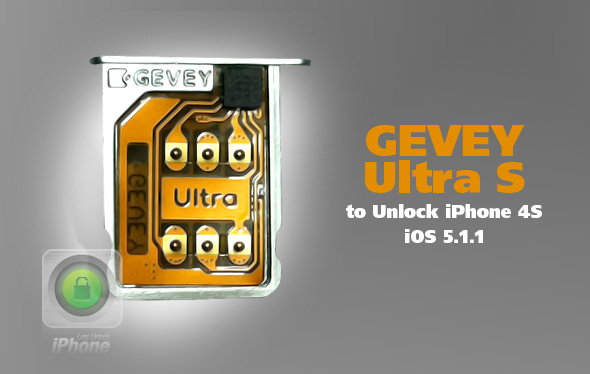 Looks like Gevey company has a nice chance to recover from recent SAM unlock exploit scandal. Remember that last week's stories (first and second) about R-SIM and Gevey using free unlock to produce their SIM card-based unlocking solutions and sell them for $25 and $50 respectively? That was a huge reputation strike for both companies but this time they seem to be lucky enough to survive the next iOS update.

If you are an iPhone 4S owner and updated to iOS 5.1.1 during last 12 hours, there are couple of things you can do with it. As there's no public iOS 5.1.1 jailbreak for A5 devices (iPhone 4S, iPad 3) and iPad 2, you can't jailbreak right now. you can try to downgrade from iOS 5.1.1 to iOS 5.0.1 which is the last OS with untethered jailbreak availability. If you use Gevey Ultra S as unlocking solution for iPhone 4S on 5.1.1 – don't be afraid as you won't lose your unlock with this update. You will be safe at least until iOS 6 comes out. That update will bring new baseband versions most definitely so all the unlockers (both software and hardware) will have to spend lots of time developing new unlocking solutions.
The newest Gevey Ultra S available to unlock iPhone 4S on iOS 5.1.1 has lots of nice features. This solution includes such improvements compared to previous Gevey unlocks:
No need to dial 112 while rebooting or interposer installation.
You don't need to connect your iPhone to PC or jailbreak in order to get the unlock working.
This method doesn't violate Apple's warranty in any way.
The F981 chipset used in this card consumes 3 volts which allows your battery to last much longer.
Enhanced signal strength for reliable voice and data connections.
Works with all SIM cards around the world.
You can buy  Gevey Ultra S to unlock iPhone 4S on iOS 5.1.1 on Applenberry official site for $39.99 (which is 10 bucks lower than their last unlocking solution). Let's hope that this time nothing will interrupt their sales and it will work longer than Gevey Ultra 5.1.
What do you think of Gevey Ultra S unlock? Is it worth buying or you'd better use their competitors offers? Please comment below.