Hackers about iOS 6.0.1 Untethered Jailbreak
There is a lot of interesting information about iOS 6.0.1 untethered jailbreak Pod2g and Planetbeing have shared in his Twitter post. Maybe these are just a couple of phrases, but they can bring a broad smile on the face of every iOS user who is hoping to see the release of this jailbreaking utility. We all see how long it takes famous hackers to come up with a successful solution to iOS 6.0.1 untethered jailbreak, and Planetbeing together with Pod2g finally make us believe we should continue waiting for it.
Just for a while, some people started to think the reality with iOS 6 untethered jailbreak was too bad and hopes were vain. Luckily, two well-known developers assure that there is good progress with the development of iOS 6.0.1 untethered jailbreak [Pod2g and Planetbeing say so].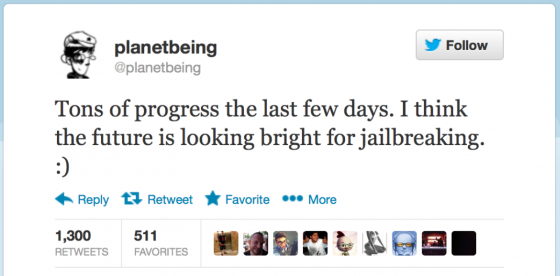 Bright Future for iOS Jailbreaking
Would you like to heard what exactly hacker said about iOS 6.0.1 untethered jailbreak? Planetbeing wrote such a phrase "The future is looking bright" for this jailbreaking utility. Isn't it inspiring?
Do you like to see such a public report? Of course, he didn't mean the program for iOS version 6.0.1, he just spoke about iOS jailbreaking in general. Still we believe that his words might as well refer to this particular firmware.
Also you can read about pod2's Twitition to make Apple to open iOS 7 for jailbreak tweaks and themes.
New Team Project
The "tons of progress" by Planetbeing also sounds exciting. It is great that the two hackers, Planetbeing and Pod2g, have teamed up in order to search for new iOS vulnerabilities and maybe create the public jailbreak for the new iOS version. Other hackers, including pimskeks [Nikias Bassen] and p0sixninja [Joshua Hill] also joined the team.
Considering the iOS 6.0.1 untethered jailbreak Planetbeing often receives tweets directly from Pod2g. The two geniuses share their ideas while working on the utility development. This might mean that we will in due course observe the public release of iOS 6 untethered jailbreak. If you want to hear all the news on this topic, stay tuned to our website. We will keep you informed about everything that happens in the jailbreaking community.