Hooray! iPad 4 Jailbreak Release [Image]
The iPad 4 that is officially sold since last Friday has already been jailbroken. Would you like to find out more about this iPad 4 jailbreak release? Do you wish to jailbreak your own tablet too? Who is that guy who was capable to present iPad 4 jailbreak release so soon? Is it a public launch?
And it is specially after iPad Mini and iPhone 5 jailbreak release. I am sure all these questions run through iPad users' minds as most iOS device owners wish to download and play third-party applications on their gadgets and not be locked to the programs offered via iTunes only. This becomes possible only when you jailbreak your tablet computer so the iPad 4 jailbreak release would be interesting to all customers who have already bought or will soon purchase it from Apple.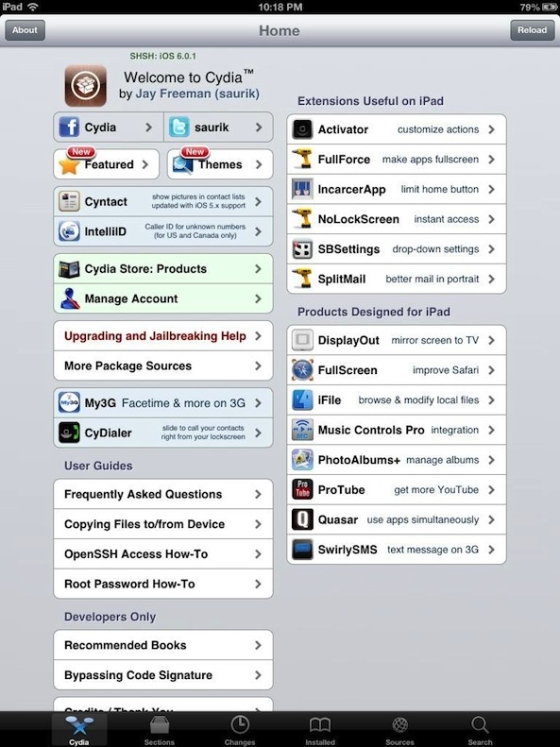 Jailbroken iPad 4
Famous iOS developer and hacker whose nickname is Chpwn assures that he owns a jailbroken iPad 4. He hacked it himself and this news is wowing and significant because it means that there will be a public iPad 4 jailbreak release in the future or at least it is possible.
Surely, Cydia looks the same on all jailbroken devices and the image of iPad 4 running Cydia does not differ from the pictures of a jailbroken iPad 3, but somehow this picture still looks special because it has appeared so fast since the launch of this tablet.
The Future of iPad 4 Jailbreak
Speaking of Chpwn's iPad 4 jailbreak release, it will not become public as this is just a failbreak and hackers will keep on looking for other exploits before finally presenting public releases for iPhone 5, iPad mini and iPad 4 jailbreak utilities [according to hacker MuscleNerd, Chpwn's iPad 4 jailbreak is also working for the smaller iPad mini jailbreak].
We believe that the public releases will be available pretty soon because a lot of developers, including the Dev Team, are working on them.
For now, at your own risk, you can only try jailbreak for iOS 6.0.1 that is tethered and works for iPhone 4, iPod Touch and iPad.