How to Create iPhone Email Signatures Using HTML
iPhone email signature that is created by default says "Sent from my iPhone" with iPad signature being similar. Some users might get bored getting the same email signature for iphone 5, 4S, 4, 5S, 5c and 6 this fall. You can easily change your email signature on iPhone adding some nice-looking text to it, links and other staff using this email fix guide.
You can make your custom email signature on iPhone with italic, bold text, email address and anything else you want to add to it to look cute and interesting. This was impossible a couple of years ago, but now everything can be created with ease.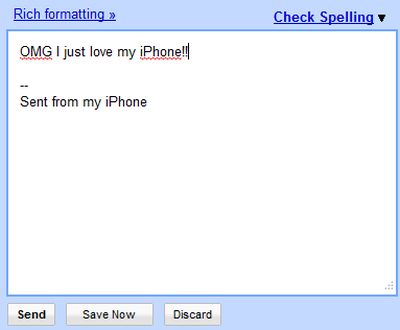 You don't even have to install iPhone email signature creator to do this. You need to use your computer and smartphone or tablet device.
How to Create Email Signature on iPhone
An instruction for iPhone email settings and signatures for iPhone 5, iPad and other iDevices. Learn how to create and use email sugnature HTML.
Step 1. Turn on your computer.
Step 2. Use any of the HTML tools using your webmail program to create your signature with links and cute-looking text. Do so when you compose a new email on the PC or Mac.
Step 3. You should email your letter to yourself with the new signature you have just created.
Step 4. Open this email using your iPhone Mail program.
Step 5. iPhone email settings are no need to use as all you have to do is click and hold for a while on the signature till you see different options, including Select All and Copy.
Step 6. Once you have selected the signature and copied it, click on your Home button (not Power button)to get back to your home screen and open Settings.
Step 7. Select Mail, Contacts, Calendars menu and go down to Signature menu.
Step 8. Now you should decide whether you want to have one signature for all your accounts or create different signatures for each account. Thus you either choose "All Accounts" or click on "Per Account" option and then press on the text area under your email account where the signature will be added to.
Step 9. You should delete your old signature "Sent form iPhone" through Back button and click-hold in this box to be able to Paste your HTML signature that you have copied in Step 5. Once you are done, click your Home button to close Settings.
You should now see your signature under emails created by you.