How to Do Find My iPhone Activation Lock Bypass
To begin with , what Activation Lock is! It is a new characteristic that was launched with iOS7 in 2013. This is a path to Find my iPhone. Just download free Find My iPhone application and install it on your phone. Also check Find My iPhone is enabled on your iPhone. Activation lock helps us to trace a stolen or lost iPhone. Also you can see all your phone's location on the map if you connect any Internet source. You can lock phone down if you want to protect your personal information that are stored on the iPhone. Activation lock prevents anyone to reactivate you device without entering your Apple ID and password. Person, who holds your Smartphone will have to enter the 4-digit code to unlock it. This is a great challenge for thieves.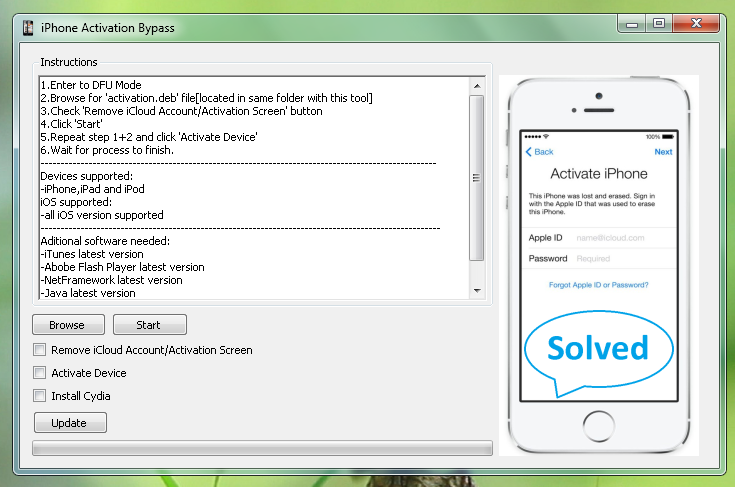 Now Perform Find My iPhone Lock Bypass
Step1. Run it on your Computer and download the iOS 7 Activation lock bypass Tool.
Step2. Enter your cell phone to DFU Mode.
Step3. Connect your phone to computer and start the Tool.
Step4. Browse for activation.deb file (this file is located in the same folder with Tool).
Step 5. Check Remove iCloud Account / Activation Screen and Activate Device.
Step6. Click the button Update and wait till the process will be finished.
After following this steps your iCloud Activation Lock will be completely removed from iPhone. The option Find my iPhone will be disabled. So you can create your new Apple account.