Use Absinthe 2.0.2 on Windows To Jailbreak iOS 5.1.1 Without Errors [How to]
Here I will show you how to use Absinthe 2.0.2 on Windows to easily jailbreak iOS 5.1.1. This version came to fix all errors that could be recieved during jailbreaking process.
With Absinthe 2.0 release we had great chance to jailbreak iOS 5.1.1 untethered on Mac, Windows and Linux after which you could enjoy your jailbroken device. But almost after Absinthe 2.0 release many users complained on many errors during jailbreaking process and iPhone Dev Team launched Absinthe 2.0.1 to fix them. But this version didn't fix some errors too.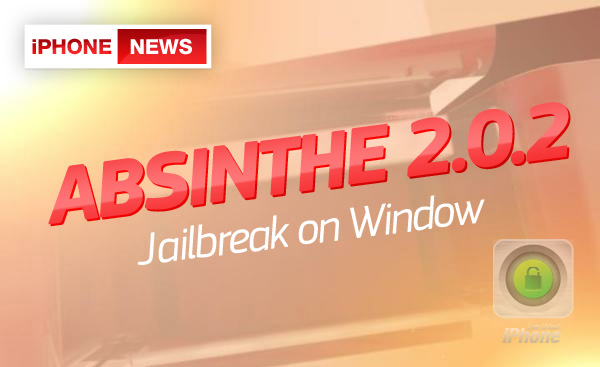 And I wrote you a guide how to fix Absinthe 2.0/2.0.1 not working problems and you can use this guide to solve any error and enjoy 2.0 and 2.0.1 versions on your gadget.
But Apple has updated iOS 5.1.1 to build 9B208 which created big troubles for those who had accidentally updated its iOS versions, simply because previous versions of Absinthe didn't work on iPhone 4 GSM build 9B208. But if you are iPad 2.4 user then you can't use this version of Absinthe for jailbreak. You should go here and jailbreak your iPad 2.4 with new Absinthe 2.0.4.
That's why iPhone Dev Team has updated Absinthe to 2.0.2 to fix that problem too. And I decided to show you how to  Absinthe 2.0.2 on Windows to jailbreak iOS 5.1.1 untethered.
First you need to do is to update your gadget to iOS 5.1.1 using iTunes or go here to download iOS 5.1.1 firmaware.
Note: If you have already jailbroken iOS 5.1.1 with previous versions of Absinthe than stay away from this tutorial and enjoy your jailbroken iPhone.
How to Use Absinthe 2.0.2 on Windows
Step 1. Download Absinthe 2.0.2 for Windows.
Step 2. After downloading just unpack .zip file in the directory you want.
Step 3. Launch absinthe-win-2.0.2.exe to extract it to the directory you choose and wait till you will see the folder absinthe-win-2.0.2.
Step 4. Open that folder and launch absinthe.exe and you will see this window: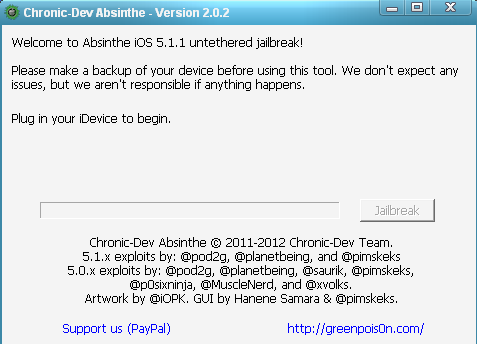 Step 5. Now you need to connect your device to PC using USB and wait till Absinthe 2.0.2 will detect your gadget.
Step 6. When you device will be detected click Jailbreak.
Step 7. Now sit down comfy and relax. Absinthe 2.0.2 will do everything itself. It jailbreaks your gadget and download packages to Cydia. Don't touch anything!
Step 8. After your device reboot just go to your Home screen and find Cydia.
If you find Cydia it would mean that you have just successfully jailbroken your device using Absinthe 2.0.2 on Windows.
If it was difficult you can also see the video on how to jailbreak iOS 5.1.1 with Absinthe 2.0 and don't worry if it is 2.0 because the process is the same.
Now you know how to use Absinthe 2.0.2 on Windows so share this info with others who haven't jailbreak their gadgets (including iOS 5.1.1 build 9B208 on iphone 4 GSM) quickly and easy.
Update: Also if you prefer Sn0wbreeze jailbreak iH8sn0w ahs recently updated Sn0wbreeze to 2.9.5 and you can use it to jailbreak iOS 5.1.1 build 9B208 too but only on A4 devices.
I hope you have any problems with that because it is very easy jailbreak and it takes a couple of minutes. But if there is some questions then don't forget to leave them using comment form below and enjoy answers.