iCloud Mail Server Issues
To report trouble with the Apple iCloud mail and service in general has become an usual practice for most of internet resources: the case of each malfunction of any component of iCloud immediately perceived as a serious Apple's failure which in spite of all financial investments can not provide a stable continuous maintenance. This is partly true, and yesterday the tech blogs have got a reason for such thoughts again as it's not the firs time iCloud server is down.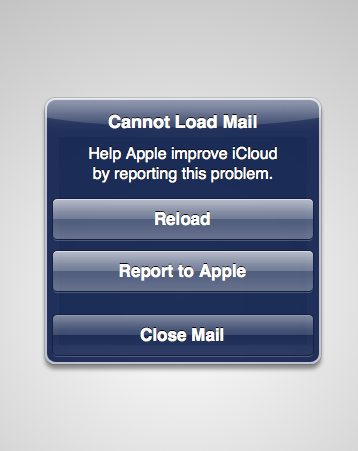 iCloud Mail Server Issue Report
Yesterday some of iCloud users began to notice that their "cloud" mail has refused to work. That was the breach on the Apple's servers and  the Cupertino-based company immediately changed the iCloud status, informing all the users that they are aware of the existing errors.
Other services that are also associated with iCloud working properly at the moment according to Apple. However the users don't agree with this stamement: except for not yet working mail, App Store and iMessage issues, and for some FaceTime calls did not work.
Of course, over time, all problems were solved iCloud services and now it seems to work as it should, but the failure occurred was the second in the last month, which brings on sad thoughts on the overall cloud service solutions from Apple stability and even iCloud security issues (who knows).
iCloud email also had serious issues in May and June this year. At that period the site was down for 15 million users two times in one week. On June 30 Cupertino company disabled the MobileMe online service and replaced with iCloud. The last iCloud server issues are agood reason for users concern as many of them migrated from Mobile me to the new cloud service and use it as the main web-based storage.
Let me remind you that such services as iWork also migrated to iCloud. iWork support was totally closed two days ago, on May 31-st, so I hipe you've moved all your files to iCloud or somewhere else. Considering the latest happenings somewhere else could be a pretty decent option.
Was any of our readers affected by yesterday's iCloud server issue?