iOS 7.1 Tweak with Calendar: List Daily Events with Ease
It doesn't matter that there is no iOS 7.1 jailbreak release a lot of Apple customers updated to this firmware with its new features and extra options not present in iOS 7.0.6 and earlier releases. For example, this file upgrade has fixed the problem with iPhone / iPad Calendar application.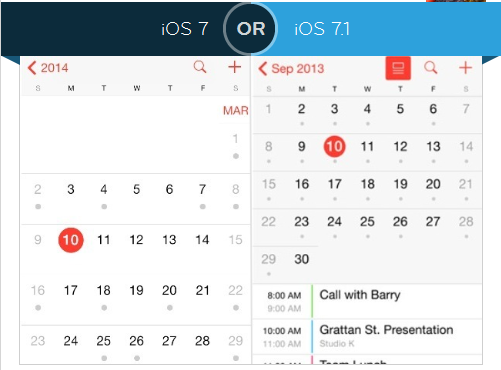 The app has a little tweak that simplifies month view option. If you remember previous look of Calendar on iOS 7.1 devices, it had a dot on days that had something scheduled in the month view. In order to see each event users were forced to click on each day which showed a new screen with events list. You had to click and tap spending much time and getting frustrated with the program.
iOS 7.1 update tweaked the application making it possible to view your daily plans with as little clicks and extra windows as possible
Once you open Calendar after upgrade you can see a new option at the display's top. Click on it and you will enable your list view feature with your scheduled events for the day. The 1/3 of your display will be turned into your days' agenda. Select days staying in the list view and check on your schedules without problems.
We hope this iOS 7.1 feature and new tweak can make iPhone 5 / 5S / 5c / 4S life easier.