iOS 8 Jailbreak AFC2 Update is Available
Are you the fan of jailbreaking? If you have the iPhone, iPod touch or iPad that is running iOS 8 or iOS 8.1 firmware you have probably heard about the Pangu jailbreak that is available without Cydia at the moment. Hackers are now working with Saurik and will soon release the update, and till then Saurik is also working on his projects. His latest AFC2 iOS 8 update is now available to everyone who likes the iOS 8 jailbreak idea and uses it.
AFC2 for iOS 8 gives you the full access to your filesystem. You will have to use the USB cable to get this access. The tweak's second name is Apple File Conduit 2 and the package is the must-have if you are a developer or just wish to write or read files from your iDevice directly to your computer via USB. This app works with iPhoto and iTunes programs.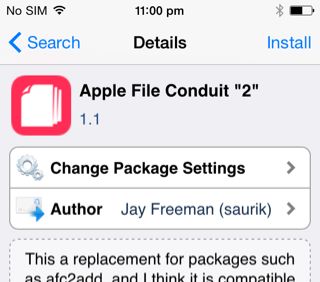 iOS 8 and iOS 8.1 jailbreak gives you access to the app since you can now install Cydia manually once you are jailbroken. It will be soon possible to have Cydia installed together with Pangu jailbreak which is more comfortable and much easier.
Once you jailbreak you can download AFC2 app and access your pictures, music files and other useful personal data for your programs from the App Store.
According to Saurik, this update is secure to use.