iOS 9.3 Download Link for All Supported Devices
Apple released iOS 9.3 that was tested this winter. The company offers iOS 9.3 direct download links all users can take advantage of. You can also try the OTA-update however due to a huge number of users who are trying to upgrade at the same time it might be difficult to install the latest iPhone firmware this way.
The iOS 9.3 download link for each model is a faster way to update when there is a high demand for new release. You can simply choose your iPhone or iPad model from the list, download the ipsw file and install it manually via iTunes. This takes some time but you'll be soon running this firmware with new features and fun options Apple offers.
We should remind you that the first iOS 9.3 beta was launched in early January. Developers and public beta testers were searching for bugs, errors and issues. Now, a couple of months later, all users get a chance to update to this mobile operating system that comes with Night Shift mode and other interesting specs.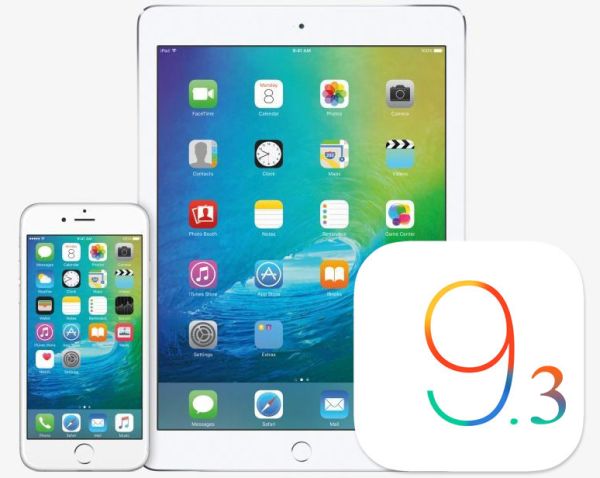 If you are running previous iOS 9 firmwares that can be jailbroken with Pangu – don't use download iOS 9.3 links as you will lose the jailbreak. We don't know if Pangu has plans to update their untethering tool and bring support for iOS 9.3. Don't risk.
iOS 9.3 Download IPSW Links
Download iOS 9.3 IPSW for iPhone
iOS 9.3 for iPhone 5s GSM+CDMA
iOS 9.3 for iPhone 5c GSM+CDMA
Direct Download iOS 9.3 IPSW Links for iPad:
iOS 9.3 for iPad Mini 2 Cellular
iOS 9.3 for iPad Mini 3 Cellular
iOS 9.3 for iPad Air 2 Cellular
iOS 9.3 for iPad Mini 4 Cellular
iOS 9.3 for iPad Pro 9.7 Wi-Fi
iOS 9.3 for iPad Pro 9.7 Cellular
Links for iOS 9.3 ipsw for iPod touch