iPad Siri Will Be Introduced In iOS 6
Apple is going to add iPad Siri feature in iOS 6 (probably iPad 3 Siri as well). Fruit gadget fans will start talking to their 9.7-inch devices as soon as fall 2012. Siri will appear on iPad and it will be the second device officially supported by the voice assistant after iPhone 4S + Siri tandem. iPad 3 owners already have the possibility to talk to the tablet using voice dictation capabilities built-in on iOS 5.1 but the iOS 6 release is expected to bring full Siri support to the iPad later this year.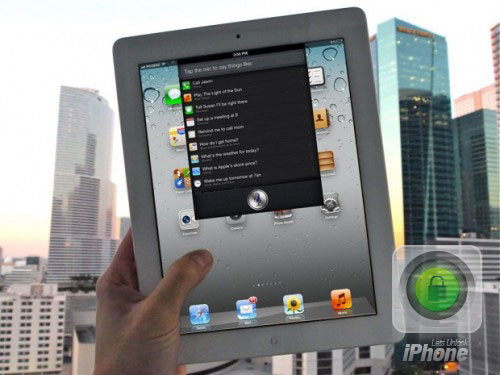 Sure, the tablet version of Siri will be different from the one on iPhone but it will still contain a list of commands that will fit the device's abilities.
List of expected iPad Siri commands:
calendar management
contact searching
e-mail, maps
weather
messaging
music control
reminders
Safari  commands
Wolfram Alpha
Reports claim that Siri is tested on iPad and iPad 2 right now. Of course, the release won't happen in the matter of weeks (let's say on WWDC 2012) and the official release will be most likely bound specifically to iPad 3. Most likely it will remind the situation with iPhone 4S when company slowly raised the weight of data sent to Siri servers as the number of the sold phones kept growing but limited the function availability to the single model.
9to5mac also reports that iPad Siri layout will be different from iPhone 4S version (due to the screen sizes and resolution of course). iPad 3 version of digital voice assistant won't occupy the whole screen, just the bottom center while in use. The purple microphone could be activated by holding the Home button. There's also a possibility to access the tool from both home and lock screens. Question about iPad 3 microphone quality and its ability to clearly recognize all the necessary voice commands is still open.
The Apple's marketing patterns aren't always original. That's why we can expect Siri launch only on iPad 3 to increase device's sales even more and make it the most popular tablet on the market. There's no ETA for the feature release but most certainly it won't happen during Worldwide Developers Conference next week. The conference will most likely introduce the iOS 6. At the same time iPad 3 Siri release will be postponed till October to release it together with iPhone 5. At least what's what lots of people (along with us) think.
What do you think of iPad 3 Siri? Would you buy the tablet only because of this feature, or are you tech-savvy enough to install Siri server to your device with help of Spite app or some other jailbreak tool. Let's talk about it in the comments below.