USB Cable and 9-pin Dock Connector Cover Are iPhone 5 Accessories
Internet got pictures of new iPhone 5 accessories. Known manufacturer of Apple periphery Scosche has released a cover, charger and adapter, equipped with a 9-pin connector for the new iPhone, which is supposed to be equipped with new models of portable Apple electronics.
Pictures of the first samples of accessories for iPhone 5 were published by iLounge, who received them from an anonymous source. SyncABLE Pro charger and car charger reNUE Pro Adapter Kit with Micro-USB to a new dock connector.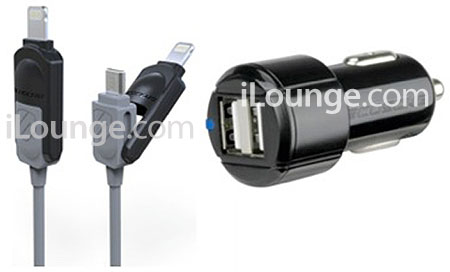 Despite the lack of reliable evidence of the authenticity of images, the likelihood of such accessories is consistent with earlier rumors that the new iPhone will get a narrow port. For accessory manufacturers change the main interface of iDevices – it is an opportunity to open a "second wind" in the market, which in succession almost exhausted growth potential.
Previously I published online image of iPhone 5 charger. USB-connector cable is compact, designed for charging and data transfer. The picture shows that the product is marked with the Federal Trade Commission of United States (FTC) and QR-code. However, whether it is an authorized product of an American company, or a third-party peripherals, is unknown.
Apple aims to reduce the size of the secondary elements to make room inside their mobile devices. Thus, together with the compact dock connector the new iPhone will get nano-Sim technology – a miniature SIM-cards of the new standard, which is about 40% less than the micro-SIM, used in the iPhone 4 and 4S.
It is expected that Apple will show a novelty in the beginning of September (according to some – 12th). Rumors from various sources credited iPhone 5 large display up to 4 inches (1136h640 points), quad-core A6, internal memory up to 64 GB, 8-megapixel camera, the NFC chip, 4G-support networks (LTE) and 1 GB of "RAM".
Many are waiting with passion the day when we will witnessed another Apple creation and my advice – don't hunt for iPhone 5 accessories till its release date.