iPhone Photo Download iOS 10 Tips for Messages App Users
Did you know that iPhone photo download was available for your stock Messages app? What does this mean? It's simple. You can import photo from Messages and save it on your handset if you really like the image and want the memorable picture (or pictures) saved in iPhone Camera Roll. Follow the awesome Messages tricks iOS 10 guide and you'll see how easy the instruction is.
Apple offers Messages program as a default program on iPhone. You can send text messages using different Messages applications. Share your images, short videos and funny stickers – this is simple. You can communicate with people you love every day and even save the high-resolution photographs directly from the app on your handset. You can also learn how to create new and delete existing contact groups on iPhone.
It's great when you can enjoy iPhone photo import right from the Messages app. There is no need to printscreen as the greatest pictures can be saved directly from the program. Let's learn how you can transfer photos from Messages to your phone or tablet device that is running one of iOS 10 firmware version.
Messages Tricks iOS 10 Guide
There are several things you should de before you can import photos from Messages. You should be sure that your iDevice supports iOS 10 platform (some old models cannot be updated to this operating system). You need to also install iOS 10 if you don't have the newest iPhone 7 or iPhone 7 Plus that arrive with iOS 10 already pre-installed.
The last thing to do is to double check that you have great photos in Messages app that you wish to move to Camera Roll.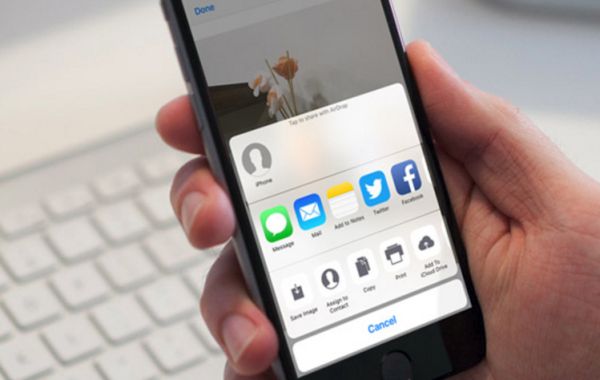 How to Save Images from iPhone Messages App
Step 1. Double check you have iOS 10 ipsw installed on your iPhone or iPad. iOS 10.2 is the most recent mobile operating system offered for iDevices by Apple.
Step 2. Open Messages application on your gadget.
Step 3. Find the conversation that contains the images you wish to save. Select it.
Step 4. You should now search for the picture that will be saved. Once it is found by you, click on it.
Step 5. In order to transfer photos from Messages you should click on 'Share' option that can be found at the lower left part of the screen.
Step 6. Now you need to click on the option called 'Save Image.'
Step 7. Remember to press on 'Done' when you are finished. This option is located at the upper right part of the screen.
Step 8. You can find the photo you have saved in your iOS 10 Camera Roll on iPhone or iPad.
Step 9. To access the saved image you should launch Photos application on iDevice with Photos tab being selected. Now you can see the picture that came from Messages app.
You can see how easy it is to save photos from Messages on your iPhone or iPad. There are no hidden iOS 10 tricks here. Everything is on the surface. You just need to master this trick and never lose incredible memories buried in long conversations.
By the way, users with iPhone 7, 7 Plus, 6s and 6s Plus who have the 3D touch option can save photos from Messages even quicker. Just do the 3D Touch on the photo inside a conversation and swipe up on your screen. You can click on 'Save' option that will appear. Isn't it wonderful?
There are a lot of curious iOS 10 features and great tips for Apple users that simplify your iPhone and iPad experience. This platform brings such great additions as Bubble Effects, Tapbacks, Digital Touch and other options you'll love.
Users who like to add emojis into images will love how it is simple to convert words into emoji icons while typing. Anyway, the iOS 10 has a lot to offer and the next iOS 10.3 might bring some little nice changes and improve the existing features.