iPhone SIM no SIM Problem [How to Fix Guide]
We all wish to avoid getting SIM not valid for iPhone error. Still sometimes users come across iPhone SIM no SIM problem. What can you do to fix it? Should you buy another smartphone, change your carrier or perform iPhone unlock? Is there an easier way to solve this issue and start using your data plan?
Let's take a closer look at iPhone invalid SIM problems. We hope that our guide will be useful to you. Use it in case your handset stops recognizing the SIM card you had and shows No SIM Installed iPhone phrase.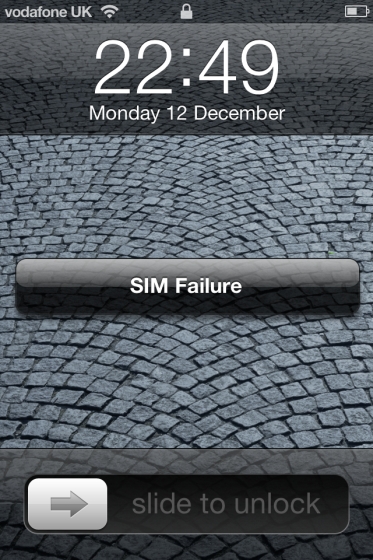 iPhone Invalid SIM Card Fix Solution
This problem might occur when you try to place an unsupported card into your smartphone. It can also be experienced when you have weak signal, bad jailbreak or SIM card reader. Each situation has its own solution.
1. If Your SIM Is Not Supported
iPhone SIM failure is a common problem if you have a card that is not supposed to be in your handset. For example, if your iPhone is locked to AT&T you cannot connect to Verizon etc. You can unlock your handset using IMEI unlock or other solutions and then you will be able to use any card from any mobile operator with your gadget.
2. If Your SIM Card Is Damaged
No SIM installed iPhone message may be caused by the problems with your card chip. Try to take it out and insert into a different iDevice to see whether it works or not. If it doesn't it is probably defected. You need a new SIM to fix this problem.
3. Problems after Downgrading
iPhone SIM no SIM can also be related to downgrading that went wrong cause the inability for your handset to read information from the SIM card. You can simply unlock iPhone with IMEI and activate the card. It will be recognized by iOS smartphone and you will be able to connect to any network.
Also if you will have problems with activation you can fix it using full and detailed guide.
4. If The Card Reader Doesn't Work
Here is another example when you can get no SIM card installed on iPhone. Its card reader stops working and cannot detect the SIM. You need to replace this reader and everything should be fine again.
5. No Signal
In case you get weak signal you can try to turn on Airplane Mode, wait for about 20 seconds and fix No Signal issue on iPhone. Then you should turn it off, reset Network Settings, take the SIM card out and place it back in. Your iPhone will connect to the network again and the signal may improve.