Exploring iOS Pod2G Found iPhone SMS Security Hole
Fresh news came today in the morning from famous french hacker Pod2g. Just an hour ago he tweeted that he located iPhone SMS security vulnerability during iOS exploration.
Many days ago I wrote you a guide on how to fix iPhone SMS sending but there was nothing said about this security problem so here I describe this SMS issue.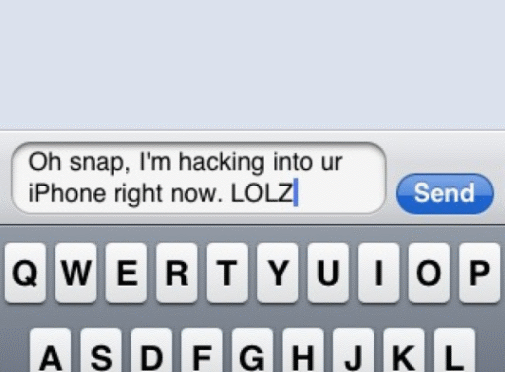 According to pod2g the iPhone SMS problem lies in security flaw that allows spoofing of messages. Interesting that this SMS security exploit has been existing from the first iOS version to the latest. Some know about that the others don't. I'm sure that Apple company knows about this exploit too but why they do nothing?
But come back to the problem. Pod2G tried to explain the problem on his blog so I don't want to twist the words, better read the quote below:
In the text payload, a section called UDH (User Data Header) is optional but defines lot of advanced features not all mobiles are compatible with. One of these options enables the user to change the reply address of the text. If the destination mobile is compatible with it, and if the receiver tries to answer to the text, he will not respond to the original number, but to the specified one. Most carriers don't check this part of the message, which means one can write whatever he wants in this section : a special number like 911, or the number of somebody else.

In a good implementation of this feature, the receiver would see the original phone number and the reply-to one. On iPhone, when you see the message, it seems to come from the reply-to number, and you loose track of the origin.
Update: Now pod2g propose to try iPhone SMS security app called Sendrawpdu to see how it works.
And it is great that pod2g began to explore this problem and alerted us. You may know that he is working now on unlocking solution for iPhone 4S, so he could find this security hole during the work.
As you see there are pros and cons in the iPhone SMS security vulnerability. At the first site it looks great. You can send messages from other address, not yours. It is great opportunity to cheat your friends and to be incognito for the receiver.
But here rises the big problem with those who will want to use this SMS security exploit for racketeering. The wrecker can use this iPhone SMS flaw to outwit the receiver.

Pod2g indicates several methods that you must be careful about:
First you can receive the message from the bank that asks you to give some your private information or invites you to go to some suspicious online site.
Also the message could contain some terrible info about the accident with your family or friends (God forbid) and force you to transfer money to help them.
SMS message in your iPhone could contain any other false information that would bring yourself and others harm.
So don't believe any received SMS on your iPhone at the first sight. Check given information first! Call to bank, friends, family etc. I'm sure that Apple will fix this iPhone SMS security exploit soon may by in iOS 6? Who knows. Update: Now we can confirm that SMS spoofing doesn't work on iOS 6. Tested.
Stay tuned with  us to get more information about this and use comment section below to express your opinion about this security vulnerability in iPhone SMS messages. Be careful. And thank you, pod2g for the important information.
Update: Find out how to prevent iPhone SMS spoofing from Apple respond.