Jailbreak iOS 5.1.1 With Sn0wbreeze
This tutorial will explain how to jailbreak your device running iOS 5.1.1 with latest version of sn0wbreeze 2.9.3. The latest version of jailbreaking tool doesn't support the latest firmware officially but seems to work like a charm. This method can be used as alternative to redsn0w 0.9.11b2 jailbreak that also works well but has less features to offer (like creating custom firmware with pre-installed apps) Moreover, sn0wbreeze method doesn't require device activation as it uses custom created firmware. Note that this method doesn't work on devices running A5 processor (aka iPhone 4S, iPad 2 and iPad 3).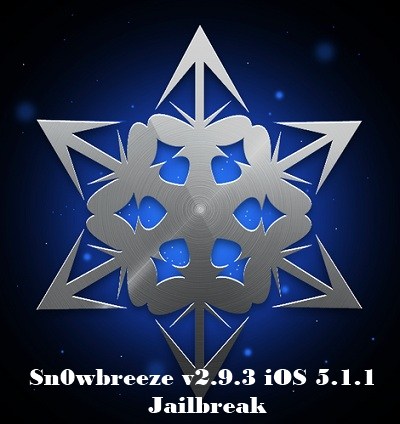 To successfully jailbreak with sn0wbreeze 2.9.3 you'll need such files as:
Instruction on how to jailbreak iOS 5.1.1 with sn0wbreeze 2.9.3:
Step One: Plug your device to your computer.
Step Two: Run sn0wbreeze (it's better to run the tool as administrator and in Windows XP SP 3 compatibility mode).
Step Three: Click OK and Next.
Step Four: Choose corresponding firmware for your device. Once it's verified click Next.
Step Five: Here you can use both Simple and Expert mode depending on what you need:
In Expert mode you can install custom boot logos, enable battery percentage or add custom packages that will be available right after device's first launch.
If you don't want these awesome features just choose Simple mode and click blue Next button.
Step Six: Play Pacman while sn0wbreeze extracts your firmware and makes custom one.
Step Seven: Now enter DFU mode (guide on how to do that right is here).
Step Eight: Go to iTunes and restore using custom firmware created by sn0wbreeze. It should be in the same folder the original downloaded firmware is.
Step Nine: After that iTunes will finish uploading the firmware to the device. Be patient, it always takes some time to do that as firmwares are pretty big there days.
Step Ten: Setup your iPhone as usual.
Note: As there's still no public release for iOS 5.1/5.1.1 untethered jailbreak, you wont' be able to run Cydia until you boot tethered with redsn0w or iBooty.

How to boot iPhone with iBooty:
Step One: Download iBooty (direct links for all iPhone/iPad/iPod Touch versions are here)
Step Two: Connect your device to the computer and run iBooty.
Step Three: Enter DFU mode.
Step Four: Wait for the program to proceed.
Now you can easily run and setup Cydia.
Remember that both iOS 5.1 and iOS 5.1.1 firmwares can be only jailbroken in tethered mode so you must run redsn0w or iBooty every time you reboot your device or it powers down. To get rid of this procedure you can downgrade from iOS 5.1.1 to lower versions.
You can also boot iOS 5.1.1 semi-tethered using SemiTether Cydia tweak:
Step One: In Cydia go to Sources.
Step Two: Add repo: thebigboss. org/semitether
Step Three: Browse for SemiTether and install the package.
Step Four: Reboot your device.
Step Five: Now you'll have much less trouble booting on iOS 5.1.1.
Let us know in the comments below in case if you have any kind of trouble concerning this jailbreaking method. We'll be glad to help.