Jailbreak iPad Mini Is Ready For Release | Musclenerd Confirmed
Just few minutes ago famous iPhone hacker Musclenerd tweeted that iPad Mini jailbreak was done and soon we would enjoy its release. You can see the proof in the screenshot below.
Currently there is tethered jailbreak for iOS 6.0.1 and iOS 6 but only for iPhone 4, iPod Touch and iPad, iPhone 3GS can be jailbroken with redsn0w 0.9.15b3 untethered. But now we can see the screenshot where is shown that jailbreak is running on iPad Mini. Check it out: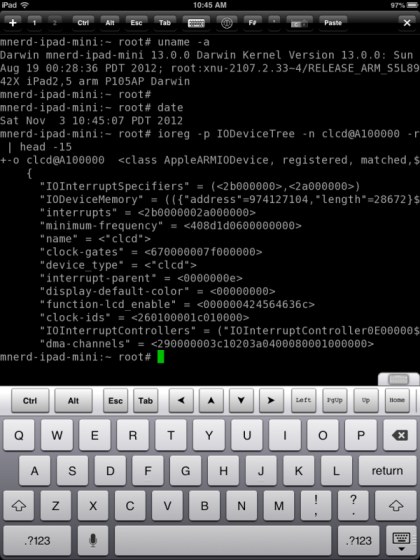 These hackers are very secretive and you will not be able to hear a word about jailbreak release. However the situation is changed today. Unfortunately it doesn't concern untethered jailbreak for iOS 6 but now we know that iPad Mini jailbreak launch date is just around the corner and if you bought smaller tablet yesterday wait with us for jailbreak.
Note: I have to warn you. EFF called iPad jailbreak illegal so, you can do it on your own risk.
However the jailbreak for iPad Mini we talk about is not jailbreak we are accustomed to hear. Hackers call it failbreak. Musclenerd called iPad Mini failbreak because it was not jailbreak as we know. Failbreak means that the process is possible because of developer account and copyrighting files from Apple. The problem is that these files can't be distributed to the public version of redsn0w, only to developers. Also I should say that failbreak is like tethered jailbreak but more complicated.
Only 15 minutes ago Musclenerd tweeted that @phoenixdev and @chpwn performed iPad Mini jailbreak:
Remember when the new iPhone was released chpwn demonstrated jailbroken iPhone 5 but another hacker know as @planetbeing titled it failbreak. There is the only one thing that sounds not good, we still don't see jailbreak for iPhone 5.
I hope that soon we will witness iPad Mini jailbreak launch and install Cydia on the smaller tablet. Lately we have been hearing different rumors about untethered jailbreak for iOS 6. It is not clear when we will see it. Some say till the end of this year, the others – in 2013! Also there are thoughts that we will see it after iOS 6.1 release date.
Stay tuned with us and you will be the first who jailbreak iPad Mini after its release date.