Mac Applications Damaged Due to Authentication Problems
There are some authentication issues on Mac that makes users frustrated [you can unlock your Mac using free iPhone Touch ID tool]. Some people note that the problems cause other unpleasant consequences and the results are upsetting. For example, users assure they have problems with applications they downloaded from the Mac App Store.
According to users, Mac authentication problems can cause 'damaged' apps. A lot of people suffered from this bug this week. They simply found out that their Mac applications are now 'damaged' and this happened because of the issues with authentication.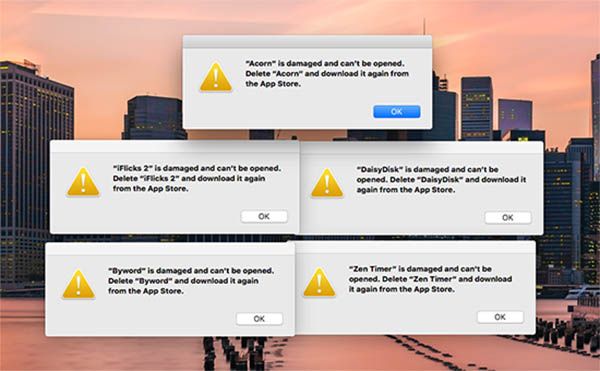 It is curious that the list damages programs contains some popular programs including Call of Duty 2, Tweetbot, 1Password and Byword. A lot of other apps are also suffering from the unknown bug.
If you see your Mac Applications damaged message you should know that you are not alone. Many users have the same issue. They can't open Acorn and other tools as they see error when they are trying to launch the damaged program.
How can you fix Mac applications damages problem caused by authentication issue? Some users are able to solve the bug by signing out of the Mac App Store and signing back in. Others say this method doesn't help them and they have to delete the program from Mac and reinstall it again.
Still the two solutions might not fix your problem. The new security certificate issued by Apple should help as well as it won't expire until 2035. As developers say the problem could have appeared because of the authentication certification and the different receipts encryption used on new and older OS X versions. This hasn't been confirmed by Apple and it's understood. The Cupertino company is busy as it just launched the new iPad Pro you could earlier pre order and now buy in the U.S.
There is another fix you can also try if you keep experiencing the problem. Run one command and it should solve the bug without Mac restart and with no app reinstallation. The command name is: $ killall -KILL storeaccountd. Good luck!