Pangu Cydia Package Mysterious Launch with Sandbox Fix
The Chinese group of hackers who presented the only untethered iOS 7.1.2, 7.1.1 and 7.1 jailbreak also promised to release Pangu Cydia package v.0.3 with fixes to problems with sandbox. This happened a couple of days ago, and then… the package was removed.
Pangu jailbreak fix for Cydia was a long-awaited launch. Users who jailbroke their iPhone, iPad and iPod touch had issues with sandbox and reboot loop problems. The bugs were experienced by particular models, but since they existed users wished to get Pangu sandbox issue fix along with reboot loop fix.
Pangy Cydia package which was available in Cydia included afc2 extra. With its help users could access heir filesystem. Then the package called Pangu 7.1-7.1.x Untether 0.3 was gone. What has happened and why has it occurred?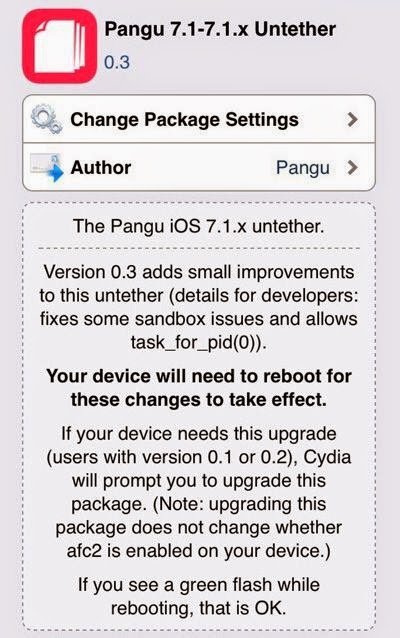 The second update of package for Pangu jailbreak for iOS 7.1.2 and earlier firmware versions was with bugs, and the third upgrade seems to have the same problem. What was supposed to fix the problems brought new issues, and according to Cydia creator Saurik hackers from Pangu team asked him to remove the package version 0.3.
If you have installed v.0.3 you are advised to delete it. You better use package 0.1 and wait till the Chinese team comes up with a new solution. As Saurik notes, he felt that there would be problems with the package from the very beginning. He mentions that anything that asks users to reboot can cause problems eventually. Some files have bugs and this is why Pangu package for Cydia bug fix failed to work to a lot of users.
You might remember how users explained crashes in version 0.2 with the light sensor. No one could explain reasons for 0.3 version bugs, so Pangu decided to take it down and find a new fix.