Preserve iPhone Baseband During iOS 6.1 Update Using Sn0wbreeze
Owners of iPhone 3GS and iPhone 4 are able to upgrade to the latest firmware iOS 6.1 and keep their baseband. How is it possible? You can use Sn0wbreeze and do fine. We have written this post with how to update iOS 6.1 preserving baseband which offers easy to understand steps that you should follow in order to perform successful update.
There is Sn0wbreeze 2.9.8 custom firmware which helps iPhone 3GS / 4 users to update to iOS 6.1 and not update baseband. Why do you need to keep your old baseband? This is important to users who wish to unlock their device via Gevey SIM tool or Ultrasn0w method which depend on the version of baseband. The problem is when you choose to update your baseband you are unable to downgrade it. Think twice, as it is impossible to turn back.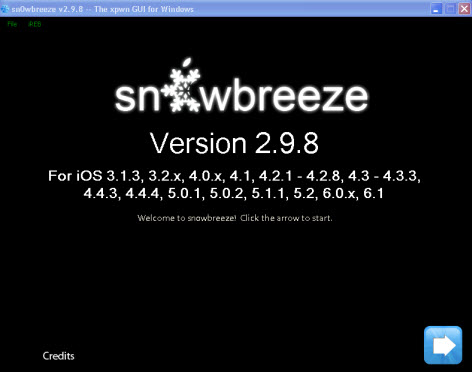 Basebands You Can Preserve During iOS 6.1 Upgrade
What basebands can Sn0wbreeze 2.9.8 custom firmware preserve? If you don't wish to use iOS 6.1 baseband you can follow guide below. iPhone 3GS users can keep their basebands 05.13.04, 05.11.07 and 05.12.01. iPad users are able to preserve baseband 06.15.00. iPhone 4 users can preserve 01.59.00. And after keeping your old baseband you can use Ultrasn0w iOS 6.1 unlock which was recently updated. And basebands 04.10.01, 02.10.4, 03.10.01 if they unlock it with Gevey SIM tool.
Users who have iPhone 5 and iPhone 4S gadgets cannot update iOS 6.1 and keep the old baseband.
Do not start to perform these steps before you backup the device you have.
How to Update iOS 6.1 Preserving Baseband [Instruction]
Firstly we need to get and install custom iOS 6.1 system on your PC [for Windows users only]. In case you do not have an official SIM, you will have to use "Hacktivation."
Step 1. All users need to download iOS 6.1 IPSW and save this firmware on the hard drive.
Step 2. Now you should get Sn0wbreeze 2.9.8 using this link. Once you have downloaded it, launch it.
Step 3. Press Browse to point to the iOS 6.1 you got in the Step 1.
Step 4. Wait till Sn0wbreeze identifies your firmware version 6.1. Press Next.
Step 5. Select your mode. You need to choose iFaith Mode if you want to build custom iOS 6.1 and stitch it with SHSH blobs you saved beforehand. You need to select Expert Mode if you want to preserve baseband, jailbreak and hacktivate your device. You can select Baseband Preservation Mode if you wish to keep your old baseband but don't want to jailbreak or hacktivate later on.
All users are recommended to choose Simple Mode as it will preserve baseband and allow jailbreaking and hacktivating your device.
Step 6. When you are asked if you wish to hacktivate, you should say "Yes" and wait as the program builds your custom iOS 6.1.
Step 7. When the process is over you will see your custom iOS 6.1 on the desktop. Now it is time to put iOS smartphone into pwned DFU mode and later restore it.
Step 8. When the custom OS is built you will see iREB. It is possible to access iREB using menu on Sn0wbreeze. Put your handset into pwned DFU mode to start restoring process. Open iTunes, click shift on your computer keyboard and choose to Restore.
Step 9. Choose your custom iOS 6.1 firmware. The file should say something as sn0wbreeze_iPhone_xxxxxxx.
Congratulations! You have successfully followed our update iOS 6.1 preserving baseband instructions.
But if something went wrong and your baseband wasn't been preserved or you are sick and tired of messing with all these steps, you can always order iPhone unlock only for $9.99 if your iPhone is locked to AT&T network.