QuickStore 2 iOS 7 Cydia Tweak for Fast App Store Links Launch
iPhone and iPad users who are constantly searching for the new iOS 7 apps and games get frustrated when they are directed away from the website to the application of their choice. This happens when you are browsing different news on Apple programs. There is one Cydia tweak for jailbroken iDevices that can solve this unpleasant quirk.
The tweak's name is QuickStore 2. It is available on Cydia, but you have to pay $0.99 to download it. Here is some information that can influence your decision to purchase the little program that can take away your headache.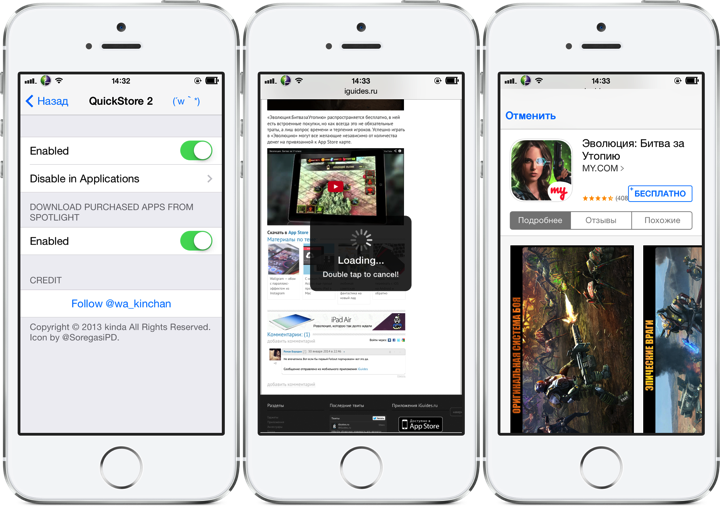 iOS 7 Tweak QuickStore 2 for Pop-up App Store Links
The iOS tweak simply makes your App Store link pop-up and not route you away from the application you are learning more about. This is handy since you don't lose the site you were searching through and can learn more about the app you are interested it. This is way more convenient and comfortable as you can find many other applications and games to download.
You'll stay on the site you were visiting and have your App Store link popped-up. iPhone and iPad customers who have jailbroken their smartphone or tablet will surely find it much better.
The program supports the 64-bit processors thus iPhone 5S owners can get it for their jailbroken device. In case you haven't jailbroken the iOS 7 firmware yet you can use Evasi0n7 untethered jailbreak which is free and supports 7 firmwares up to version 7.0.5.
You will not have to switch between games and applications while you are browsing through them. Isn't it a nice solution? Maybe it's not worth $0.99 but you should agree that the tweak takes the frustration away.
You can configure QuickStore 2 iOS 7 tweak. It adds options to your Settings program. It's up to you to choose which games / applications the tweak shouldn't support and whether this tweak should be on or off. 
You can also use the option that makes it possible to download programs you buy at App Store via Spotlight.