Use Ramdisk Method To Jailbreak iOS 5.1.1 With RedSn0w 0.9.12b2 | Mac
You may know that iPhone Dev Team had recently released new RedSn0w 0.9.12b2 with Ramdisk method to jailbreak iOS 5.1.1 and here I will show you how to do that on iPhone 4 using Mac.
If you are worry about losing unlock on your iPhone 4 you should use this guide where you will create custom IPSW file and update your gadget to 5.1.1. So do this first because RedSn0w 0.9.12b2 jailbreak is made for iOS 5.1.1 and it will update your iPhone firmware automatically during jailbreaking process.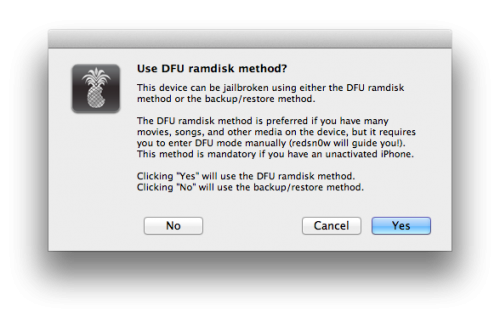 Also be sure to save SHSH blobs and APTicket before update. You can use it for iOS downgrade or you need Activation tickets if you are using SAM unlock.
If you have already done all that was required above we can start to perform untetherd iOS 5.1.1 jailbreak using new Ramdisk method.
Jailbreak iOS 5.1.1 Using Ramdisk Method in RedSn0w 0.9.12b2
Step 1. First I advise you to create a directory and call it how you want it.
Step 2. Now you need to download iOS 5.1.1 firmware and RedSn0w 0.9.12b2.
Note: there is now need to download 5.1.1 if you are already running it.
Step 3. Put downloaded file in the folder that you have just created in step one and extract RedSn0w 0.9.12b2 .zip file (double click).
Warning: Step 4 is for those who haven't install iOS 5.1.1 yet.
Step 4. Connect your iPhone 4 to the computer and open iTunes. Holding Option button on Mac, click Restore. Then select your downloaded 5.1.1. IPSW file and click Choose button. Now wait till iTunes update your iOS.
Step 5. Now just open extracted Redsn0w 0.9.12b2 and click Jailbreak if your iPhone 4 is connected to Mac.
Step 6. Now you should be asked to choose jailbreaking method so choose DFU Ramdisc method in Redsn0w 0.9.12b2 and click Yes.
Step 7. Switch your device off and click Next.
Step 8. You will be asked to enter DFU mode then follow screen direction or follow this link to enter DFU mode.
Step 9. After iPhone reboot Redsn0w 0.92b2 will prepare your device to jailbreak.
Step 10. Now just select Cydia and click Next.
Step 11. After iPhone rebooting Redsn0w will start uploading RamDisk and Kernel.
Step 12. After jailbreaking process completed Redsn0w will show you that it's done. Check if there is Cydia on your Home screen. If you find it means that everything is OK and you can use your jailbroken iOS 5.1.1 on iPhone 4 using Ramdisk method in RedSn0w 0.9.12b2.
I hope you have no problems with that and can enjoy Cydia. Also you can find out what Cydia apps and tweaks are compatible with iOS 5.1.1.