iPhone 4 Baseband 04.11.08 unlock by React0r [Rumor]
Great news about Unlock iPhone 4 on baseband 04.11.08 exploits. A developer by the name of Hamzah Akram is currently working hard to bring stable iPhone 4 software unlock exploit for baseband 4.11.08. He has successfully ported his code into a program called React0r. We hope his unlock software will help our readers, who has upgraded their iPhone 4 to iOS 5.0 in a result they lost their unlocks. But some of them were lucky enough to lower their bands are included in 04.11.08 to 04.10.0 baseband. Update: Here is our guide to unlock 04.11.08 baseband on iPhone 4 using Reactor unlock.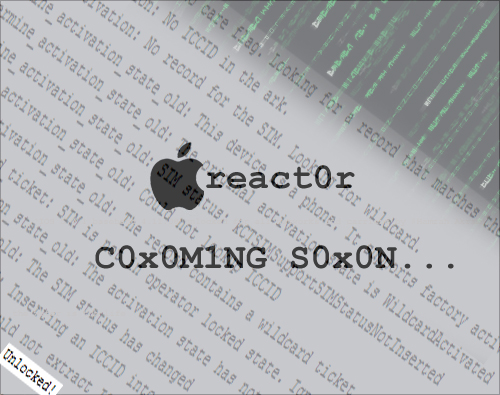 The React0r unlock doesn't have complete tutorial yet, but we will try this unlock and upgrade this post with step by step guide. But wait before you get excited of Reactor iPhone baseband unlock 04.11.08,  because we still do not have 100% proof of this program to be working. In a situation when many big developers aren't working on Baseband 4.11.08 unlock, this is surely a sign of hope for all the iPhone 4 owners who rely on unlock.
Some people claim this method to be fake like this used in November 2011.
Insert original carrier AT&T SIM card
Dial 611 for AT&T customer service hotline and drop the call
Turn on Airplane Mode
Take out AT&T SIM card
Insert T-Mobile SIM card
Make sure WiFi is off ( also tap on 'Forget this Network" to make sure it doesn't connect automatically later)
Switch off Airplane Mode and iPhone will search for network. This is followed by the Apple splash screen appearing.
Activation Required will be displayed on the screen
EDGE network will activate automatically – notice the 'E' on the top left corner of the screen
Wait for about 20-30 seconds and turn off the phone
Turn on iPhone and the same Activation Required screen will be displayed
When you see one signal bar, tap on Use Cellular Connection
Eject SIM card
Activation Required screen will be displayed the second time
Insert SIM card
Unlocked!
Here is what Hamzah Akram says aboyt this exploit:
Inside the iPhone 4! I confirm that i have it unlocked! but so far all i can do to much codes and replace some files by files then have it. the react0r will use the SIM interposer regarding less its kind of gevey and stretch the exploit!
React0r iPhone 4 baseband 04.11.08 Unlock – What should I do now?
Please, just wait. This is the best thing you can do for now. The Hamzah Akram is constantly working to find solutions to these unlock problems.