How to Remove Multiple Messages Attachments iOS 9 iPhone Guide
It is extremely easy to communicate via text messages. Still with the time you'll notice that you have tons of messages on your smartphone that you don't really need. It takes too much time to delete them one by one [you can also learn how to delete phone number from Messages]. Luckily, you can delete multiple iPhone messages at once.
It is great that while you can delete several messages from a conversation you will not delete the conversation itself. This is simply great! Follow this guide and you'll successfully get rid of the messages you don't want to keep on the handset.
How to Delete Multiple Messages on iPhone iOS 9
Step 1. Sometimes you add attachments to your Messages and all these extra things stay on your iPhone and take much of your storage. You can remove multiples messages iOS 9 or delete only messages with attachments. This way you'll free up some space and get rid of extra messages you have.
Step 2. Launch Messages program on your iPhone.
Step 3. Select your conversation that has attachments to it.
Step 4. Choose Details menu.
Step 5. Scroll down to find Attachments option.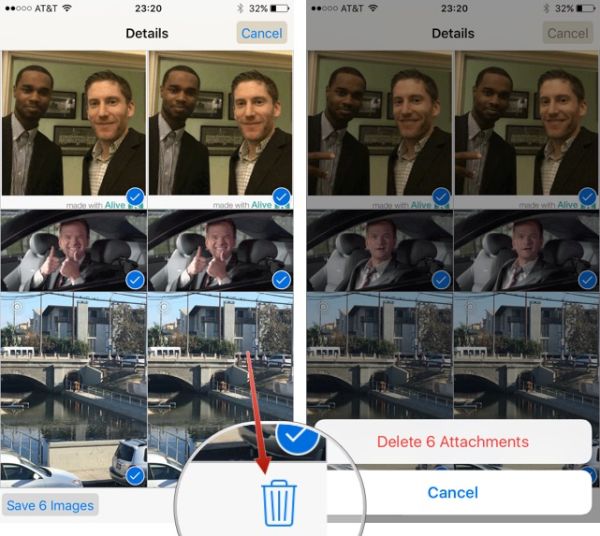 Step 6. You'll find all your videos and images attached to messages in this particular conversation in this section. Click-hold your finger on the item you wish to delete and you'll see a pop-up option where you can choose More. You can now select several images or videos. Each selected file will get a blue checkmark. Keep choosing untl you select all the files you wish to delete and press on the blue trash can to remove them.
Step 7. Confirm your decision.
Step 8. Click on Delete Attachments and you'll successfully get rid of extra files within a conversation without deleting your conversation.
This is a fast method that allows you getting some free iOS 9 space and removing files you have attached to your iOS 9 messages on iPhone.