Safari 6.0 for OS X Mountain Lion Features Overview
This post will cover the Safari 6.0 for OS X Mountain Lion features and new stuff. Perhaps for a modern user one of the most frequently used applications is a browser. This is an application that acts as a kind of bridge between the user and global webs, allowing you to receive information on the desktop. So, what happened with the Safari browser in the new version of the Mountain Lion?
Personally I like Safari. This is a pretty good browser, though it lacks a lot of features. And it must be said that the Safari 6.0 included in the Mountain Lion in its pretty well polished.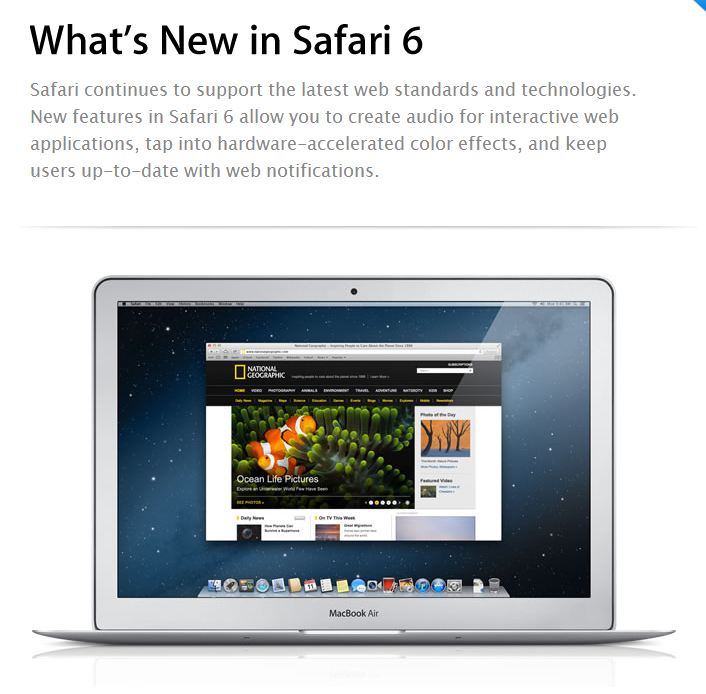 Safari 6.0 for OS X Mountain Lion Features Overview
Safari 6.0 Search + Address bar
Needless to say that it was necessary to do this change a long time ago. After all, much easier not to be distracted by it, in which of the two lines to enter the search, and at what the site's address. The combination of address bar and search has been implemented in other browsers a long time ago, and finally in Safari. Yes, that much to say, the guys from Cupertino a little late. Ease of operation has improved significantly.
Another nice addition is that despite how many tabs you have open, they will all be nicely spread over the entire width of Safari. Not critical, but nice. Another plus is the basket of Cupertino guys.
Address Bar Animation
The next pleasant, but also not critical addition is the animation of address-search bar. Beautifully.
Share Button
This button was noticed by many immediately after the release of Mountain Lion Developer Preview 1. With this little button you can now quickly add a page to the reading list, create a tab, send it by email, or by iMessage, quickly tweet in Twitter. Not a bad idea. And even though I somehow did not have to use it, I think many will like this features.
iOS Devices Tabs Synchronization
Another very interesting feature is in the form of a small button with a cloud. With its help users will be able to finish reading that did not have time for on their mobile gadgets running iOS, whether iPad or iPhone. It is also quite interesting.
Other Changes in Safari 6.0 for OS X Mountain Lion
Several other minor changes that can be mixed under one heading. It should be noted that the design of the "Reader" feature has changed. Now it takes up the entire height of the row size and clearly glows blue if available.
This is probably all that I've seen when using the new Safari. If to say in general, the work with Safari 6.0 was really convenient. Little things affect a lot. But in addition to course of design the work on the code was also carried out.
What are your experience of using Safari 6.0 for OS X Mountain Lion and its features?