Samsung Galaxy S7 iPhone 6s Rival Release
iPhone 6s rival is officially released. Samsung galaxy S7 and S7 edge models are launched offering customers another alternative to popular Apple smartphones [you can compare previous Samsung Galaxy S6 to iPhone 6]. Unlike the current iPhone 6s and 6s Plus, the S7 / S7 edge phones arrive water resistant and they boast 12MP rear camera along with other interesting features, options and specs.
Samsung didn't change the design of its previous Galaxy model. It offered minor tweaks to the overall look and added the IP68 waterproofing. This is something unique and is not offered in any Apple handset at the moment. Apple is planning to unveil iPhone 5se soon but this model won't be waterproof as rumors suggest. The next iPhone 7 that should be launched in the fall should get some exclusive features but no one knows if the 'fruit' giant has plans to bring water proof option to its smartphones in 2016.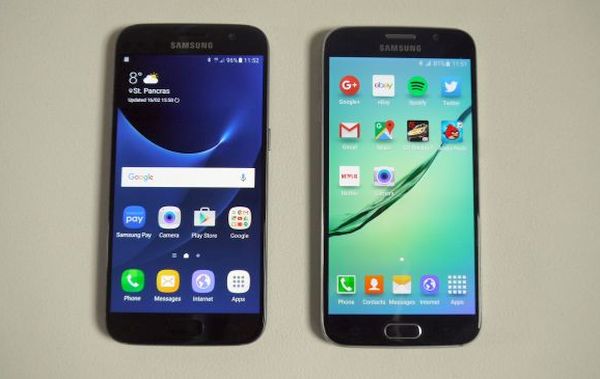 The list of water resistant phones has both Samsung S7 edge and S7 models. The 'edge' version got 5.5-inch screen. This curbed display doesn't look like the iPhone 6s. The S7 model arrives with 5.1-inch AMOLED screen.
Both new Galaxy smartphones get the octa-coreExynos 8890 processor along with powerful cooling system that should prevent any possible heating problems. The company 'borrowed' Apple's fingerprint sensor idea, included 32GB and 64GB versions, Samsung Pay option support and other features.
The 2016 Samsung phones get 12MP dual pixel cameras to improve focus and quality of low-light pictures. The company also devoted some time to compare its new S7 model to iPhone 6s Plus during official presentation. It included 3,000mAh and 3,600mAh batteries and promised to start the sales of the new device on March 11th in the U.S. and in mid-March in other countries across the world.
Does the new Samsung smartphone lineup look different from what Apple offers? Do you think the 'fruit' giant could unveil something more exciting in the fall?